Diane Marino Has Loads Of Love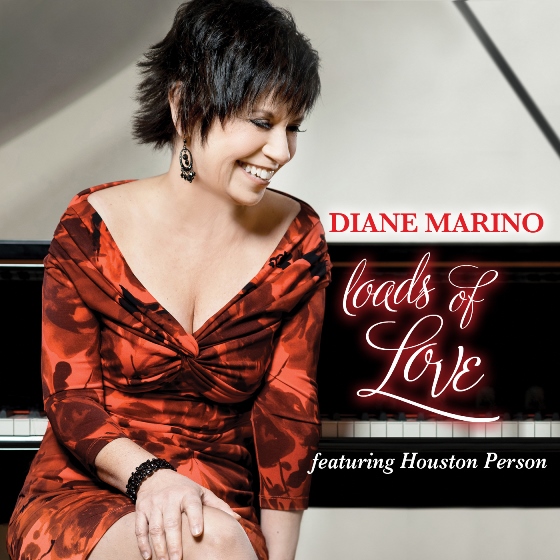 On the eve of releasing her new album Loads Of Love it was to Riveting Riffs Magazine's delight that we had the opportunity to chat once again with Jazz singer, arranger and pianist Diane Marino from her home in Nashville, Tennessee. Ms. Marino who grew up in Queens, New York City was reunited with her friend and saxophonist extraordinaire Houston Person who played on ten of the rejuvenated standards that are featured on Loads Of Love.
Diane Marino possesses impeccable phrasing, her voice has beautiful colors and tones and the new arrangements are lush without detracting from yet another wonderful recording from a truly magnificent vocalist.
The album opens with Cole Porter's "Get Out Of Town," written for his 1938 Broadway musical Leave It To Me! The song is introduced on Loads Of Love by Frank Marino's upright bass, eventually joined by Diane Marino accompanying herself on the piano. Houston Person has an extended melodious solo, followed by Ms. Marino's lively piano solo. For those not familiar with the song, the singer's former beau arrives on the scene and she bids him to go quickly, before she falls in love again and has her heart broken once again.
Acknowledging that she is definitely a romantic, Ms. Marino says, "I didn't really set out to do an album about love songs, but if you look at it, it is all about love. Subconsciously I guess that is what I was thinking of (she is laughing). I wanted to do an album of good vocal standards, but standards that haven't been done a zillion times. I didn't want to do that. I wanted to bring something fresh to that concept of the Great American Songbook. There are some familiar songs on here to be sure, but there are some that I hadn't heard before. I was also thinking of the people who influenced me when I was picking out the tunes and one of them was the great Shirley Horn. I was going through her catalogue of music and there are some fabulous songs that I hadn't heard of before. Being a pianist – vocalist I relate to what she does and I love what she did. Some of it (the music) came from that direction. From the conception I was thinking of Houston Person who is a master of the American Songbook and he is a stickler for "got to play the melody, got to play the melody." People love his CDs and he is a master of interpreting those kinds of songs. As we were going back and forth, he was suggesting some titles to me and that is where some of the songs came from.
Houston Person played on Diane Marino's third album Just Groovin' (2008) appropriately named as she recorded a duet with Felix Cavaliere (The Young Rascals) of his song "Groovin,'" set to a Jazz arrangement. Houston Person played on three of the album's songs, an album that also featured Kirk Whalum (saxophonist) and Wycliffe Gordon (trombonist). The album also featured modern day takes on tunes such as, "Baby I'm Yours," "Walking In The Rain," "Baby I'm Yours," and "Anyone Who Had A Heart," all of which had new Jazz arrangements.
When asked if she had to twist Houston Person's arm to get him to play on Loads Of Love, Diane Marino laughs lightly and says, "No it was pretty easy. It was a matter of scheduling. He is in New York and we are here (Nashville). He travels so much, but we made it happen. We brought him down from New York for five days and we had a great time with him. I remember when I heard him play on (Groovin') and that huge sound came out and I was just dumbstruck. I was so excited that this was going onto one of my tracks. It is an unmistakable and soulful sound. We kept in touch and we became friends over that collaboration. He said you have to do an album of standards, just standards. It took a while for it to come together. It was the logistics of it, with him there and we are here. Finally, it happened last summer. This was recorded in August (2012)."
Ms. Marino points out that "It Shouldn't Happen To A Dream," (Duke Ellington / Jimmy McHugh) and "Take Love Easy," (Duke Ellington / John Latouche the opening song on Ella Fitzgerald's 1973 album of the same name, were songs that Houston Person suggested that Diane Marino record. Frank Marino (bass) and drummer Chris Brown provide an elegant accompaniment for Diane Marino, while Houston Person makes his tenor sax sing. Ms. Marino's piano performance is beautiful.
Diane Marino began taking piano lessons when she was ten years old, but before that she was playing her favorite radio songs by ear, using her mother's upright piano, "I would just sit down at the piano and recreate whatever was in my head."
Diane Marino would later attend The High School for the Performing Arts, the original one upon which the film Fame was based.
"It was an old building and probably a fire trap, but we loved it. I went to the old rickety building on 46th Street off Broadway. The building is still there. There was no gymnasium and there was no cafeteria. We had musicians, dancers and actors and half your day would be devoted to your specialty, music, dance or drama and then the other half to accredited academic high school courses, which were just as important. You would have half a day of doing something that you loved. It was great. I have a lot of fond memories of that school. It was so concentrated and every day we were exposed to something that was about perfecting our craft. All your friends had the same mindset as you did. We were all striving to be musicians, dancers or actors. By no means was that a typical high school. That's for sure. The kids were very, very focused. These friendships lasted a long, long time and thank goodness for Facebook, because we all reconnected a few years ago for a reunion. I managed to reconnect with people that I went to PA with and sadly a lot of people didn't continue, but some did. It is nice all of these years later to say, what are you doing and to say I am doing this. Nothing has changed. It is still the same people with the desire to perform. That's what it is all about, performing," she says.
Ms. Marino says that the time she spent at The High School for Performing Arts prepared her well for the next step in her musical education at Mannes College of Music in Manhattan.
As for the Shirley Horn connection on Loads Of Love, she says, "Whenever I am drawn to an artist I try to learn. You can never stop learning in this business. I don't approach a song in the same way that she does, but I was highly influenced by her. She has such command of the lyrics and she just draws every breath out of every note and word. I really loved what she did. I found some old recordings of hers and that is where one of the songs came from, "Someone You've Loved," (Johnny Pate). I never heard that song before. It is on an older album of hers (Travelin' Light - 1965). Years ago, I guess in the sixties is when she did these things. I know she was a lot younger, but it almost didn't sound like her. It was just phenomenal and the swing of the tunes that she did was really incredible. It was really hard, swinging, driving tunes. She was a big influence on this project. I loved the sound of the melody ("Someone You've Loved") and it is a very haunting song (she vocalizes the melody). It (the song) just hit me and when I hear a song that strikes me like that, that is it. I need to do that song and I don't care if it fits into the scheme of what we are doing or not, I just need to do the song.
I started doing the project as a tribute album to (Shirley) and then I got steered away from that when I started hearing different tunes. Shirley didn't do them, but I said let's do these songs. It came together in that way. There were just really good swing songs that I found and that Houston found and they all have a groovy edge."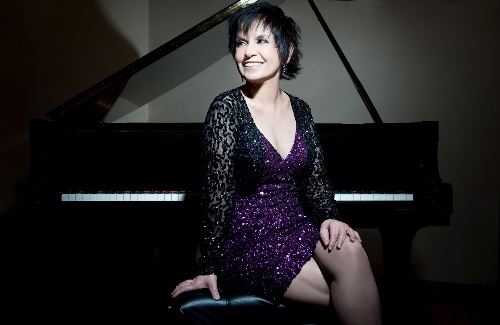 The third song on Loads Of Love is Harold Adams and Jimmy McHugh's "I Just Found Out About Love," a song also recorded by Shirley Horn. The musicians play big without being overbearing. The mood is joyful and Ms. Marino absolutely shines on both the piano and with her singing. The lyrics and the mood of the musicians and vocalist celebrate the excitement of falling in love and feeling like you are on top of the world.
"It is a happy sounding song and it is another feature that I wanted to convey with this album. I have a couple of moody ballads here too, but in general I think (Loads Of Love) is an up feeling type of an album. "I Just Found Out About Love," is bouncy and bubbly," she says.
Although songs such as "Never Let Me Go," (the tenth song), by Jay Livingston and Ray Evans from the film Scarlett Hour and Richard Rodgers and Lorenz Hart's "I Didn't Know What Time It Was," written for the musical Too Many Girls were written for film and theater, Diane Marino focuses more on the lyrics than the context within the film or musical.
"The lyrics are really important to me and I take the song for how it stands by itself. Quite honestly, I didn't know the history about some of these tunes. I was influenced by other people who I heard singing the songs. The lyrics will take you (only) so far in the present day, because some of them are so dated and it is sometimes difficult to relate to. I will look for a lyric that will mean something to me today. They are very old songs, but they are great songs," says Ms. Marino.
Diane Marino met her husband Frank who plays both on this album and in her live ensemble in 1980, through a bass playing friend of hers and then in June of 1981 when the same friend could not play on one of her gigs he suggested Frank.
"I hired him and the rest is history. We have been working together for a long time, a long time," she says.
Laughing she says, "It is kind of hard to talk about your own husband, but I will separate myself. I am the piano player and the vocalist now instead of the wife. He is a phenomenal player and he is totally supportive in his bass playing number one, but he listens so well and he compliments. We have been playing together since 1981 and it is like breathing together. As a pianist he will know what I am going to do before I do it. He will play something that compliments that. As a vocalist he'll listen to how I am singing something and he'll compliment that. He plays very melodically, as well as very supportive rhythmically. We have spent a long time playing together, so it works.
We've known Chris (Brown - drummer) for a long time. Chris is one of the most musical drummers that I have ever worked with. He compliments not only the playing, but the vocals. He is just incredible. He is not just keeping time, but he is also making music along with my vocal phrasing, my piano phrasing. He is just amazing. We may not have time to go over something and he is just there, plus he listens. He is such a great musician. He phrases along with me. It is a conversation that we have together, between the piano, the vocals and the drums. He is very sensitive and a very musical player.
George Tidwell (trumpet) is a good player, a great Jazz player and a very easy going guy. Again he was very happy to be on the project and thrilled to be in the studio with Houston. He is a fun player and he did a great job on the tune ("Someone You've Loved"). When I heard the song "Someone You've Loved," I felt it definitely needed a trumpet. That's what I wanted and I knew we had Houston on the project, but I wanted to do something different on a couple of other tunes too.
We met Pat Bergeson (guitar) shortly after we moved (to Nashville). We had a band up in New York and my sax player was using Pat in his band. He is a really, really fine player. He is very musical, he has great ears and he is very easy to get along with, which is real important. When you are making this kind of music in a studio with an intimate group like this, with four people or five people, it is so important that you gel personally too. He is a beautiful player and he plays a great blues harmonica also."
Expanding on her earlier thoughts as to why it was important to Diane Marino to have Houston Person on this album she says, "He plays what people know and of course he improvises fantastically, but he will never go over people's heads that way. That formula has worked for him for decades, but that soulfulness in his playing is just amazing. His solo on "Just For A Thrill," is soulful and I just sit there and think, My God, he is phenomenal. That soulfulness and an edge is what I wanted out of these standards. I just think that we work really well together that way. He is so easy to work with in the studio. He is great."
During her career Diane Marino has performed at Trumpets Jazz Club in New Jersey, The Metropolitan Room in New York City, the Montreux Atlanta Festival, Music City Jazz & Heritage Festival, Churchill Grounds in Atlanta, Riverfest Jazz in the Valley, The Jazz Factory, HarborFest, Bowling Green International Festival and Three Rivers Music Festival.
Please visit Diane Marino's website and you can also listen to previews of her album Loads Of Love at Reverbnation.
Editor's note this interview is based on the March 29th, 2013 interview with Diane Marino with notes and some quotes from the Riveting Riffs Magazine 2012 interview with Diane Marino.
Photos courtesy of Diane Marino. Bottom Photo: Diane and Frank Marino. Photos protected by copyright © All Rights Reserved. Interview by Joe Montague
This interview is protected by copyright © and may not be reproduced in print or on the internet or through any other means without the written permission of Riveting Riffs Magazine, All Rights Reserved