Film Review - Super Speed Dates

Carolyn Bridget Kennedy's short film Super Speed Dates which made its Toronto premiere September 8 th (2017) at the Toronto Independent Film Festival at the Carlton Cinemas presents speed dating in a quirky and fun fashion. Kennedy wrote the script for, produced and starred in this comedic expose that takes a look at dating or even finding a date in today's hectic world when time is at a premium, work takes up the majority of our waking hours and many are faced with the simple challenge of where to find potential people to date?
Whether we are talking about speed dating or some form of online dating or similar there are always adventures, misadventures and in some cases love is found. As for Carolyn Bridget Kennedy's cast of rather, hmm, shall we say rather interesting characters, film fans will have to be the judge as to whether or not this is art imitating life.
Kennedy says, "I started with the concept of whether superheroes, attending as their alter-egos, could be good dating material. I then brought in the concept of speed dating as the format for the dates. I wrote the script so that the viewer is left to interpret whether the male characters are actually the alter egos of the superheroes or just men who are simply weird (Editor's note: We are siding with the latter option!). The comic book fans may latch onto the characterizations and Easter eggs and hopefully enjoy it from that perspective. Others may be entertained by the quirky,

Read More
Social Activism In Films

During the recently concluded Toronto International Film Festival in Canada, Variety hosted the Creative Conscience Symposium, which had as its main topic social activism in films, particularly in independent documentary films. A panel consisting of Mexican actor, producer and director Gael Garcia Bernal (The Motorcycle Diaries in which he portrayed Che Guevara, directed Los Invisibles in collaboration with Amnesty International, directed Rosewater and won a Golden Globe Award in 2016 for the lead role in Mozart in the Jungle), American filmmaker Morgan Spurlock who first reached notoriety with debut film Super Size Me in 2004, later Where In the World is Osama Bin Laden, and the television series 30 Days among many others.) Joining Gael Garcia Bernal on the panel were filmmakers Kief Davidson and Richard Ladkani whose documentary film The Ivory Game that was viewed at this year's festival. Actress and author Maria Bello was also originally scheduled to take part in the panel, but due to the sudden death of a close friend she sent her regrets.
The session began with Variety's award winning editor Jenelle Riley asking the directors to talk about their most recent films. Spurlock began by talking about The Eagle Huntress, which he described as being about a 13 year old girl from Mongolia. He called it "One of the most inspiring films you will ever see." This trailer will do far more to tell you about the film than this writer could possibly do
Interview with Michael Maron
Michael Maron's has enjoyed an illustrious career as a makeup artist, critically acclaimed photographer and beauty consultant. He has authored books such as Child Inside Me and Makeover Magic, which took a look at corrective cosmetics and cosmetic surgery and his book Michael Maron's Instant Makeover Magic was a New York Times best seller. Maron has been sought out by some of the beauty industry's top models, as well as some of the entertainment world's biggest stars and yet he also delights in being of service to clients whose names are only known to their families and neighbors. Michael Maron has been a radio and television personality and worked on the production side of television as well. He was thrust firmly into the spotlight when an entire hour of Oprah's television show was dedicated to Maron doing a makeover of Oprah in front of the cameras. His work with charities and with burn victims has earned him a special place in the hearts of those who have worked with him, in the hearts of his friends and with those who have been the recipients of his generosity. Riveting Riffs Magazine was honored when Michael Maron accepted our invitation to be interviewed by this publication.
Michael Maron was born in New York City and as a child moved with his family of four to Los Angeles.
"(One of) my mother's many sisters lived in
Jean Harlow - A Book Review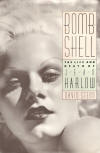 Bombshell The Life and Death of Jean Harlow, a biography by David Stenn and published by Doubleday in 1993 is a must read for any true fan or history buff when it comes to the early days of the film industry. Stenn who is also the author of the book Clara Bow: Runnin' Wild crafted a masterpiece that is well balanced, insightful and portrays Jean Harlow in a humane way.
David Stenn whose writing credits include Hill Street Blues, 21 Jump Street and Beverly Hills, 90210, conducted interviews with many of the people who knew Jean Harlow personally, including one of her closest friends Barbara Brown, a member of what Jean Harlow referred to as "my gang." Others included Irene Mayer Selznick, the wife of film producer David O Selznick (Gone With The Wind) and daughter of Louis B. Mayer the MGM movie mogul, countless interviews were conducted with the children and other family members of those close to Jean Harlow, including the family of her ex-husband Paul Bern whose death remains a mystery. The author also spent a copious amount of time exploring legal and medical documents to which he was given unrestricted access.
The prologue sets the scene at Jean Harlow's deathbed and immediately raises a number of serious questions about how a beautiful 26 year old woman, adored by fans and viewed as sex siren and goddess and loved by friends and co-workers
Jim Cliffe and Donovan's Echo

Passengers has pretty well everything you could hope for in a movie, drama, suspense, humor and romance. The storyline at times can be a little predictable, but the ending not necessarily so. Aurora Lane (played by Jennifer Lawrence) and Jim Preston (Chris Pratt) are two of 5,000 passengers on a ship. The hitch is they are all on a spaceship, the voyage takes 120 years from earth to a distant planet or moon where they will establish a colony called Homestead II and all of the passengers and crew are in stasis or hibernating. That makes sense or they would all die before they reach the colony. Things do not go as planned however and without giving away too much of the storyline Jim's pod decides he should wake up thirty years into the trip. He is the only one that is awake. What to do? He still has 90 more years before he reaches Homestead II and unless he discovers that someone has stashed onboard the fountain of youth, he is not going to be around to see Homestead II.
As Jim explores the ship, Avalon, he takes dance lessons from holographic images, dines in fancy restaurants served by robots and he plays basketball in simulated games with holographic crowds. He discovers Arthur the android bartender and they become buddies, well sort of. When Jim tries to talk to Arthur about his loneliness and the dilemma he faces about whether or not to wake up a beautiful woman he accidentally discovered in another pod, Arthur simply does not have the ability to understand, after all he
La La Land - Film Review

La La Land is about dreamers and dreams. It is also about falling in love, falling in love with your dreams and falling in love with someone, but not just anyone, someone who encourages you and supports you in the pursuit of your dreams. It is about knowing that realizing your dreams comes at a cost both personally and financially.
Winner of the People's Choice Award at the Toronto International Film Festival, La La Land, written and directed by Damien Chazelle and with spectacular performances by Ryan Gosling (as Sebastian) and Emma Stone (as Mia), brings back the charm of classic Hollywood musicals, while adhering to a good storyline.
Damien Chazelle says, "With La La Land I wanted to explore how you balance life with art and how you balance dreams and reality," and he goes on to say, "I wanted to use music and dance to express it. The movie is about passion for art and passion for love. It is about using dreams and using fantasy to comment on reality."
Sebastian is a Jazz pianist and singer / composer and Mia is a struggling actress. Sebastian is playing in a restaurant where nobody seems to be listening and Mia is a barista with a stack of audition rejections that are piling up. They keep bumping into each other despite themselves and yes they fall in love.
We will paraphrase a line from the film, but remember it. Sebastian tells Mia that he wants to take her to see a film,