Lara Celenza - Director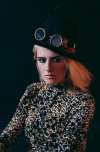 It would be easy to lose track of how many prestigious universities and how many countries film producer, screenwriter and director Lara Celenza has studied in. She has studied in Bologna, Italy, at Cambridge University in England, in Moscow and in Saint Petersburg, Russia.
Lara Celenza, chronicles her travels, "I studied everywhere. I did my bachelor's degree in Bologna, which was already very different from where I grew up, because Italy, as a country is very culturally diverse. I grew up in the south-central part of the country and then I moved to Bologna, which is a sophisticated, university city. It was much bigger than my hometown, but not like a big city. It was kind of a mid-size city.
I experienced the first culture shock of my life there. It was more of an intellectual type of environment, where everybody was sitting down, drinking wine, and discussing literature and movies. It was very inspiring, but at the same time, at the beginning I felt very intimidated (she laughs lightly). It was also kind of wild with the partying. I wasn't used to having all of these students around. My parents were very conservative and strict. When I went to university it was party, after party, after party. I had the chance to meet people from all over the country and some people from other countries.
I did the Erasmus programme in London, at UCL (University College London), which is quite a
Kincső Nóra Pethő
- Actress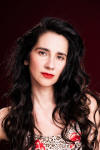 Fresh from performing as a futuristic computer from the year 2100 who is named after the Greek goddess of earth Gaia IA 01, and who sends a message back to today to warn others about a pending environmental apocalypse unless we change our ways, Hungarian actress, choreographer and dancer Kincső Nóra Pethő sat down for a conversation with Riveting Riffs Magazine, over Skype.
Obviously, only the Gaia part is taken from the Greek goddess, as Kincső Nóra Pethő explains, "I am like a computer program from the future who becomes a real person by the end of this 70-minute show. It was called Heroes of the Future and it was part of Planet Budapest 2021. There were about fifty actors and actresses working on this project, which was intended to raise the interest of kids for protecting the environment. For one week (in early December) the program ran from morning until evening. It was a wonderful experience to see how enthusiastic the kids were! I felt great about contributing to such a good goal!"
Continuing she says, "We talk to the children about how in the year 2100 there is not enough air, and the environment has been destroyed. (The message is) they have to be conscious of what they are doing in the present in 2021.
When we had some rehearsal groups and I could see a small guy, who was ten years
Actor Miquel Garcia Borda

Recently, Miquel Garcia Borda, an actor, director, producer, and writer who splits his time between Barcelona and Madrid was our guest at Riveting Riffs Magazine. You have seen him TV 3 the Catalan television station in series such as If I Hadn't Met You and in the Vancouver Media / Atres Media production of the popular television, now Netflix series Money Heist, which first aired on Antena 3 in Spain. You can also catch him in the current production Hache, also on Netflix. He is directing, producing, and starring in the feature film Pregunta Por Mí Mañana opposite actress Paula Moncada. Earlier in his career he also directed music videos for two better known Spanish bands, Sol Lagarto and Pastora, as well as two other films.
We quickly learned about Miquel Garcia Borda even prior to the interview that is he is a very gracious man, who does not take his opportunities and accomplishments for granted, who seems to understand that who he is as an artist is the sum of his life experiences and the people from whom he has learned along the way.
"When I was in college and I was nineteen we were doing a play The Philanderer by George Bernard Shaw and I was playing the main character. The instructor, Juame Melendres said to me are you allowed to go out at night? You are too young to do that. (He laughs) I said I get it. I will try harder. You must have lived. You have to live a lot to use it for your characters," says
Actor German Torres

Actor and singer German Torres who in recent years starred in some impressive musicals in Spain, Beauty and the Beast and 24 horas en la vida una mujer (24 Hours in the Life of a Woman) and in 2013 he received the award for Best Supporting Actor from the La Unión de Actores (the equivalent of the American Screen Actors Guild), for his role in Anton Chekhov's Ivanov, was our guest recently at Riveting Riffs Magazine to talk about his career in theater, film and television, both as an actor and a producer.
At the time we spoke, 24 horas en la vida de una mujer, produced by highly acclaimed actress Silvia Marsó, who also starred in the musical with Felipe Ansola had just returned to the stage at Teatro Galileo in Madrid, after an absence of nine months due to the COVID-19 pandemic. We asked German Torres what that experience was like.
He said, "It was fantastic, after the world stopped, returning to the stage is a miracle. The theater has maximum security and culture is safe now in Madrid. We are allowed to have fifty-five percent (of capacity) for the audience now. In other communities only thirty people are allowed.
We had forgotten, just a little about the energy of the stage, because it had been so long
There were also
Derek Siow - Actor Interview

Derek Siow is one of those people you could sit and talk to for hours on end, both because he is so affable and he is an immensely talented actor, screenwriter and voice actor, who has worked in film, theater and the burgeoning video game market. The Australian thespian who now makes his home in London, England, he is part of the cast for the audio book The Sandman: Act II, which featured a stunning cast that included, James McAvoy, Emma Corrin, Brian Cox, Kat Dennings, John Lithgow and Bill Nighy. He also has two films in postproduction that he is not yet at liberty to talk about.
Before we get into Derek Siow's acting let's spend a moment or two talking about his other passion, screenwriting.
"I write sci-fi, drama and comedy and I write mainly because I just crave that creative outlet. In my younger days I wrote a lot of songs (oh right we forgot to mention his music, but we will!) but my writing is more focused on screenplays now. I was really fortunate last year when one of my comedy scripts placed as a semi-finalist one of the screenwriting competitions so I'm always looking at the various options on where to take my projects," he says.
Derek Siow's acting career got a big push in 2013 when he played the character Lee in the feature film Piercing Brightness.
"This was a very
Camila Rodriguez Bohorguez

It was a journey that began as a child in Bogotá, Colombia, with dreams of utilizing a career path first as a biologist and now as a filmmaker to see the world. In between those two careers, she served as the Head of Production in a company that specialized in new and virtual media marketing for major brands. She is now immersed in several other film projects in both Madrid, Spain, where she now lives and in Colombia, but for the moment she is not at liberty to discuss them.
Each fifty-two minute segment of Atlántico directed by Daniel Landa, who was also the series creator, is filled with culture, adventure, and beauty, as the four person crew filmed in Spain, Portugal and twelve west African countries, which border on the Atlantic Ocean. Other members of the four person team were Tato de la Rosa and Vinsen Modino, the cinematographers.
"Daniel has devoted his life to being a journalist, director and a writer. He specializes in long expedition series and documentary series.
When Daniel (Landa) came to me he was looking for a way to make his product a little more modern within an internet and digital context. We tried to expand the narrative and we decided on a lot of things for social media. We found our principal sponsor Volvo who gave us two cars for the expedition.
It was very interesting to work with Volvo, because the first thing they told us was we are

Read More