Hilary Scott Interview

Hilary Scott, from St. Louis Missouri has a new record out and it is called Freight Train Love. The album is worth buying for a lot of reasons, but in our minds at Riveting Riffs Magazine one of the most significant reasons is Scott's cover of Nicolette Larson's "Lotta Love," (written by Neil Young). Hilary Scott who demonstrates a lot of vocal and artistic diversity with her new album gifts us with an incredible interpretation of the song. The tempo is slowed down, Nicolette Larson's louder, Pop vocals have been supplanted by a more sensuous, romantic and quieter performance by Hilary Scott.
"I give credit to Michael O'Neill for saying, have you ever thought about covering "Lotta Love." I just feel like you could really reinterpret this. It would be a tribute to Nicolette Larson too. I love Neil Young. I think that he is a really great songwriter, but I probably would have thought of other Neil Young songs before that one. I did not want it to come across as anything like what it was before. To me it is a really profound love song and I didn't feel that necessarily it had been done that way before. That is why I decided to sing it this way. It came out easily and it is a song that was very short and there is not a lot to the lyrics. I felt that I could vocalize on it and I could bring out some emotions that weren't necessarily tied to what I was saying," says Scott.
Hilary Scott who has released numerous records during the past decade says about her new album, "For me it is a pivotal record, because
Dave Darling - Producer - Mixer

What do top producers do when they want to relax? Well we caught up with highly-respected producer, musician, singer and songwriter Dave Darling recently after he had been doing some gardening at his home in Los Angeles.
"There are a lot of succulents. It is a lot of cacti and jungle weed plants that my wfie (Brie Howard Darling) put in and it looks beautiful," says Dave Darling.
Darling was the original founder of the band The Boxing Ghandis, which was formed in the 1990s and consisted of, Darling on vocals, guitar and bass, Brie Howard Darling on vocals and percussion, saxophonist and singer Ernie Perez, David Kitay (vocals, guitar, and percussion), Alfredo Ballesteros (flautist, sax), Ted Andriadis (keyboards), bassist Carl Sealove and drummer Steve Samuel. They were signed to Atlantic Records and although, he left the band after a few years to focus on producing, he is still writing songs for the band. The Boxing Ghandis has released four albums in total, and two during the time that Darling performed with them, the self-titled Boxing Ghandis on Mesa Records in 1994 and the 1996 release Howard on Atlantic Records.
Dave Darling has worked with artists such as, Brian Setzer, Glen Campbell (producer / mixer for the album See You There), John Waite, Meredith Brooks, Stray Cats, Jack Johnson, Def Leppard, Tom Waites and Motley Crüe. He has produced and mixed two Grammy Award nominated albums and two Grammy Award nominated
Nina Söderquist
of Sweden
Swedish singer, songwriter and actress Nina Söderquist grew up in a small town in central Sweden, which she describes as a part of the country "with farms and there is not that much there really. It was a nice place to grow up and it was calm. Everybody knew everyone. There was my mom, my step-father, my sister and me."
A few things immediately become apparent about Nina Söderquist, one she is an immensely talented singer, who can belt out a tune like she did with her 2009 performance of the song "Tick Tock," at Sweden's Melodifestivalen or you hear her soulful Rock vocals when she sang Marc Cohn's "Walking In Memphis," on the television show Så Ska Det Låta (English translation: That's' The Spirit) or you watch and listen to her perform a scintillating duet, "Straight Back To You," (written by Tamara Champlin, Bill Champlin, Björn Skifs, Douglas Carr) in December of 2013 on Swedish television with Björn Skifs. Nina Söderquist's vocal talents were also on display during the fall of 2008 and early 2009 on the televised music competition West End Star, broadcast on Swedish television with the winner, in this case Söderquist being cast as "Lady Of The Lake," at the Palace Theatre's production of Spamalot in London's West End.
The second thing that immediately becomes apparent about Nina Söderquist is she lives her life with a perfect blend of gratitude and the belief that she can accomplish anything she sets her mind to doing. She is grateful for her partner and for her four year old daughter. She is grateful for being able to just live life, because several

Read More
Kelley Mickwee - River Girl

Towards the end of our conversation, Memphis, Tennessee born and now living just outside Austin, Texas singer-songwriter Kelley Mickwee and I share a bit of laughter, as she says how she went from the Texas group The Trishas, which she describes as being sweet to something a little more gritty and not so innocent. She was responding to our analogy of how she went from being in more of Sweethearts of the Rodeo mode to more of a Tanya Tucker persona. Musically Kelley Mickwee does not sound like any of those artists, but you get the idea in terms of the emotional tone of the songs.
"Hotel Jackson," co-written with Jonny Burke is so hot and Mickwee's approach is so sultry that listeners who are wearing earbuds or headphones may well end up with scorched ears or at very least most people will feel the need for a cold shower after listening to this song, assuming you make it all the way through. With lines such as "You talk with lips, I wanna' kiss / You think it's okay I'm saying all this /You look like something I wanna' eat / You look like something that puts off some heat / I'm gonna' treat you like you never seen / Come by later, you'll see what I mean…" all said from the perspective of a woman who has her first meeting with a man in a social setting and literally wants to devour him sexually. The song however is not in the least bit explicit and it is in good taste, it is just the lines are so well written and Kelley Mickwee does such an excellent job with her phrasing and painting the picture for the listeners. Tim Regan's (Mickwee's husband) electric guitar playing is incredible and bass player Mark Edgar Stuart is very solid. We also get a glimpse of something we do not often hear from Mickwee and that is the power.

Read More
Dan Navarro - Animated Songwriter

Life has come full circle for California singer-songwriter-musician and voice actor Dan Navarro. He is once again enjoying a solo career in music after two decades as part of the duo Lowen and Navarro, with the late Eric Lowen who passed away two years ago from ALS also known as Lou Gehrig's Disease. Songs that Dan Navarro has written and / or co-written have been recorded by artists such as, Pat Benatar, Jackson Browne, Keb' Mo', Dave Edmunds, Dionne Warwick, The Temptations and The Bangles. Navarro has also added a new dimension to his entertainment career in recent years, doing voice over work for animated feature films and animated television shows. The affable and very articulate Dan Navarro took time out from his busy schedule recently to sit down with Riveting Riffs Magazine to discuss his new, still to be released album, his voice acting career and to look back at his career in general.
Dan Navarro's new album is called Shed My Skin and he says it is really a continuation of changes that have been occurring in his life since his former music and business partner Eric Lowen was diagnosed with ALS in 2006, the same year that Navarro was going through a divorce and he says even some changes that began in 1998 when he was approaching middle age.
"Here I am now from 1998, about sixteen years later and I am still dealing with change. The changes were being on my own, deciding to continue being a musician instead of folding up the tent, deciding to make it about a process and not about the outcome. It is hard not to be cynical about the fate of my (new) record; I don't think that there are people out there champing at the bit
Margie Balter Interview
Margie Balter is a pianist, a composer, an actress, a playwright and she is the piano teacher that some of Hollywood's biggest stars turn to, whether to learn piano for simple enjoyment or because their role in a film requires them to play a song or two. What should not be overlooked however, is how much of an inspiration Margie Balter is to so many, including this writer in the short time that he has been acquainted with her and how others look to her as a personal mentor. Margie Balter's current album Music From My Heart was released a few years ago, about the time when the music business seriously hit the wall and since it is a timeless album comprised of original treasures you should buy it now. Yes you!
Ms. Balter's foray into the entertainment world was, one might say almost predestined. A couple of members of her extended family were entertainers, including the actress Aline MacMahon who was nominated in 1944 for an Academy Award as Best Supporting Actress for her role in the film Dragon Seed.
Remembering Aline MacMahon, Margie Balter says, "She had this very big voice and this very large personality (Margie imitates her). There was something about her life and she had all of these pictures of herself, headshots and even as a little girl I was like, that is what I am doing. Right now kids don't really know what they want to do in their lives and that was not me. I don't know what drove me, but I was so driven as a child at a very, very young age I knew I was going to be an actress and not only an actress, but I was going to
Mike Stern and Eric Johnson

Eclectic is one of the more aptly titled albums out there today as it combines the guitar wizardry of two of music's best, Eric Johnson and Mike Stern, the former known more for his presence in the Rock world and latter known for his Jazz career. When you take a Grammy Award winner (Johnson) who has also been nominated for several more Grammy Awards and you combine him with multiple Grammy Awards nominee Stern, you expect lots of sizzle and that is exactly what the listener experiences right from the opening track "Roll With It," a funky Blues Rock marathon written by Stern and which features some scintillating guitar solos. Malford Milligan delivers an incredible vocal performance.
The second song "Remember," gives the musical scales a workout and as the two guitar aficionados take the listener on an adventure that seems quite innocent enough in the beginning with a very airy section, featuring lots of cymbals and backed by bassist Chris Maresh who tours with Johnson, as well as drummer Anton Fig (the Paul Shaffer band on Late Night With Letterman). There is a lot to listen for in this song, but with it being 6:26 in length you never are left with the impression that it is too busy. There is still lots of room for the musicians to shine.
Eric Johnson's "Benny Man Blues," is a quick temp song that might be described as Benny Goodman meets Brian Setzer. The next song is the exquisite "Wishing Well," on which Grammy Award winning songwriter Christopher Cross lends his vocals for the bridge, while Stern's voice is heard on the verses. There is lots of percussion on this song courtesy of James Fenner and Fig's snare drum is ever present. The order in which this song appears on Eclectic provides a good change of

Read More
Karen Wyman Is Back!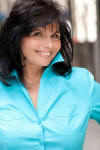 Karen Wyman, a teenage sensation appeared on almost every television show of note that featured singers in the 1960s and 1970s, including the Dean Martin Show when she made her television debut at age sixteen, the Ed Sullivan Show on several occasions and the Johnny Carson show when she received standing ovations, while still in her teens. In October of 2013 Karen Wyman began to make her way back to the stage and once again she is shining under the spotlight with vocals that are incredibly pretty, still powerful and due to a twenty-five year hiatus from her music career, so she could raise her two children, as a single parent, her voice does not show the same wear and tear as some other artists.
Karen Wyman, who grew up in the Bronx of New York City, had what she describes as "an ordinary life," the daughter of a father who was a TV repair man and her mother worked in a hospital. Her parents paid for her to take singing lessons and she says she had one brother and a lot of cousins, who she thought of as more like brothers and sisters to her. She describes it as a "very warm upbringing."
She recalls, "My mother and father never really sang, they just always had music in the house. My father loved music, so he was always playing music, Sinatra, Perry Como or show tunes or whatever. He really loved music. My brother loved music. My mother's father played piano by ear and my grandfather played the mandolin by ear. My great-grandmother supposedly had a good voice. There was music in the family. All my aunts and uncles would throw the dishes down and sing. (she laughs) My family (her ancestors) who were