Katie Cole - Lay It All Down

Lay It All Down is the new album from Australian singer-songwriter-musician Katie Cole, who has made Los Angeles her home for the past three and one-half years. With Howard Willing (Smashing Pumpkins, Kris Kristofferson, Glen Campbell) at the helm as the producer and with an outstanding cast of musicians that includes drummer Aaron Sterling (John Mayer, Natasha Bendingfield), electric guitarist Time Pierce (Faith Hill, Alanis, Jason Mraz), pianist Roger Manning Jr. (Jellyfish), Gary Clark and Lenka's keyboardist and pianist Zac Rae, and bassist Sean Hurley (John Mayer, Vertical Horizon), this is Katie Cole's best album to date. Victor Indrizzo drummer for Sheryl Crow and guitarist Lyle Workman also appear on the recording. Katie Cole played the acoustic guitar parts and she played some electric guitar on the song "Crash Landing." Oh and did we happen to mention that Kris Kristofferson stopped by to lend his vocals to the mid-tempo ballad "Penelope," that chronicles the life of a performing artist. "Hearts Don't Bend," an outstanding light Rock tune whose chorus "Didn't anybody tell you / It's more than I could take / Didn't anybody mention / Hearts Don't bend, they break," clearly defines the theme and the romantic "We Started A Fire," are other stellar songs featured on this album.
Katie Cole says, "On the recording I have some incredible "A" list musicians that my producer managed to reach out to. That is one of the perks of having somebody that is really in the business. It's not just getting great players, it's getting the right players for the right songs and that can make a huge difference as far as how a song translates. Sometimes when I am sent a list of musicians that my producer (Howard Willing) is thinking about hiring, I end up Google stalking people (she laughs) and I find out all of the credits
Sonny Under The Assumption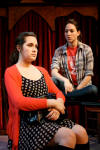 Sonny Under The Assumption, a new play written by Edward Allan Baker, directed by Ron Stetson and co-produced by actresses Nicole Cardoni and Eden Brolin under the name of Old Norman Productions, was presented recently at Toronto's The Aki Sudio Theatre, Dainel Spectrum in Toronto, Canada, is a fabulous play that everyone should see. This is a play with a master storyline that is comprised of a collection of very emotive stories, stories shared with us by each of the characters.
The central characters are Eden Brolin who portrays Kat Hellman, a writer with a small newspaper in Providence, Rhode Island and Toronto born actress Nicole Cardoni as Sonny Montecalvo who operates a food bank and support center for those in need. The center is located under the long since closed down Assumption Church. Both Brolin and Cardoni took time to talk about the play.
Nicole Cardoni says, "As a person who grew up in Toronto and who is native to the city, I thought the subject matter would be really interesting and it is very relevant regardless of the city that you would place the play in. The subject matter I thought was really relevant to have it come to Toronto and have it performed at Regent Park and in a space that is similar to what the play is about. I thought if Sonny got her way at the end of the play and was able to keep this community center running, eventually the area that she is trying to have influence over, a really rundown part of Providence, Rhode Island would eventually have the storybook ending that Regent Park has in Toronto. It is a really mixed space where there are still a lot of social services outlets available, but it is really

Read More
Janiva Magness Is The Original
Just after returning from her Yoga class Blues singer-songwriter and musician Janiva Magness seemed relaxed and eager to talk about her new album Original and her memoir, which is also being written. It was eight years ago that this writer first met the multiple Contemporary Blues Female Artist of the Year award winner in Calgary, Alberta, Canada when she sat down before one of her concerts and she was gracious enough to consent to an interview. Fast forward to 2014 and Janiva Magness is just as accessible as she was then, although one senses that she has grown even more comfortable in her own skin and the album Original may be her best recording yet. Seven of the eleven songs that comprise Original, Magness had a hand in writing.
When it came time to write the songs for Original and to head into the studio to record them, she turned to longtime friend, writer/musician/producer Dave Darling, who has worked with Stray Cats, Brian Setzer, Mötley Crüe's Nikki Sixx and Glen Campbell. When it came to write her memoir Pulitzer Prize nominated author Gary Delsohn came onboard as a ghost writer.
The album opens with the beautiful Darling / Magness song "Let Me Breathe," about a love now departed and the expression of the wish for a second chance. There is the scene of one final disagreement and watching the one you love walk right out the door. It is about when what just happened so overwhelms you that even to breathe hurts and you wish for one more chance, a chance that never comes. It is the fear that
Billy Joe Shaver - Outlaw

Country music singer-songwriter-guitarist Billy Joe Shaver, a native Texan called his new album Long In The Tooth, but we caution you do not suggest to this outlaw that he is past his prime or you just might get an ornery response from a fellow who believes he is singing better now than he ever has. It is bad enough that his birthday which is on August 16th, has been widely circulated as sometime in September and that in some reports it has been suggested that there will be a big birthday concert, which Billy Joe Shaver knows nothing about. There are a couple of lines in the title song that do however a tease at that what he used to spend all night doing, now it takes him all night to do.
Shaver has long been regarded as one of Country music's top songwriters and he collaborates with another top writer, musician and singer, his lifelong friend Willie Nelson to form a duet on the song "Hard To Be An Outlaw," a song that talks as much about the changes that have occurred in Country music as it does about the character of…of these two characters. Shaver and Nelson sing "It's hard to be an outlaw who ain't wanted anymore," and then they take a shot at some of today's Country music "superstars nowadays" who are "singing 'bout the backroads they never have been down."
"Willie felt a while back that way (about wanting to do a duet). Willie is hot and everybody comes to see him, maybe they think it is going to be his last show. It happens with me now (he laughs). Willie identified with this song. When I first pitched it to him, I pitched the title and he said, man you had better write that. I went and wrote it and once in a while he would say, that's great. He was familiar with it and when I went over there
The Scintillating Melanie Stace

Melanie Stace who for the past five years has made her home in New York City put on an absolutely stunning performance on July 17 th at the dinner club 54 Below located in New York's theater district. Ms. Stace who only weeks before had garnered resounding critical acclaim for her performance at Birdland captivated her audience, enticed them and at times seduced them with a performance that can only be described as truly breathaking, by a lady who not only knows how to sing really well, but who is also the consumate entertainer.
Melanie Stace was backed by a superb quartet of musicians that included pianist and musical director Doug Oberhamer, Tony Romano (guitar), David Anthony (drums) and upright bassist Brian Killeen who opened the evening with a splendid instrumental overture featuring a medley of movie theme songs, before giving way to Ms. Stace.
Melanie Stace has developed a spectacular show that she has titled Sirens of the Silver Screen, which as you can guess pays homage to some of the film industry's most scintillating ladies. We might suggest that Melanie Stace who is easily over six foot in heels and who is also beautiful, is a siren in her own right and although she has not, at least to our knowledge graced the silver screen she has performed on stage in London's West End and on Broadway.
During an earlier interview with Riveting Riffs Magazine Melanie Stace had this to say about her show, "I wanted to be focused on the silver screen sirens, but I am not impersonating them. I am not going to stand up there and sing boo, boop e doo a la Marilyn Monroe. It is a love letter to them and the amazing input and amazing influence
Jane Bach - Nashville Songwriter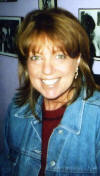 "I obviously was not raised on Country music, but in the late seventies, I guess it was during the urban cowboy days when Country music became a little bit more Popish in its orientation and I was listening to the radio and I thought I can do that. I had been writing songs since I was a child and I knew I could do that. One thing led to another and I went to a NSAI (Nashville Songwriters Association International) workshop in New York. I went to a few of those and then I decided that I needed to go down to Nashville to check it out. I went down for a NSAI weekend and the rest just kind of followed. I moved to Nashville in 1982 and I just started writing. I knew how to write, but I thought the best thing for me to do was to learn the craft. I needed to learn how to write commercially and I was very fortunate to meet some wonderful people. My dearest and oldest friend is Becky Hobbs. Becky and I began writing together and it just kind of worked from there.
I got a publishing deal very quickly within three months after moving here. Three months after that I got my first cut and it was by Tammy Wynette. It was a song called "After Dark," and it was just one of those where do I go from here moments? It was wonderful and it was great. It was a process and not only is the writing a process, but the building of a career is a process as well. It has been a wonderful journey and I have been very, very fortunate and the key to it is to do it constantly and keep doing it almost to the exclusion of everything else. It can be difficult at times. That's it. It is one hundred and fifty percent effort

Read More
Think Twice About Nina Storey

Los Angeles singer-songwriter, Nina Storey, who is originally from Boulder, Colorado, has a brand new and spectacular album called Think Twice and it is chock full of delicious R&B influenced songs that reflect what the redheaded singer refers to as Future Retro. There is a tasteful sensuality to her vocals and the beat and melody get the listener's hips moving, the head nodding and the feet dancing.
The title song "Think Twice," paints a playful picture of a wild child and comes with the warning "Think twice before you call my name," and "be careful what you wish for." Her vocals are backed by a kick drum, crash cymbals and the song is introduced by keys. One should not be surprised that the song was inspired by Storey's reading of the Chuck Palahniuk book Damned, a quirky 2011 novel about a thirteen year old girl, "Maddy" Spencer who wakes up in hell and after being given a tour of hell by some interesting characters, she goes about reforming and beautifying that domain. Nina Storey's vocals recall the prime days of Soul and R&B in cities like Memphis, Detroit and Philadelphia and on some of her songs she reminds this writer of the U.K.'s Corrine Bailey Rae.
Standing in stark contrast to songs like "Think Twice," and the danceable "Gimmie Some," is the tender, romantically longing "This Naked Woman."
"That song was probably around the longest. I think I wrote it in 2005 or 2006 and it had never been released, but it has a huge cult following. I thought it needs to be on this record. It

Read More
Billy Vera - Big Band Jazz Interview

With lush big band arrangements by Chris Walden (the bonus track "At This Moment," was arranged by Darrell Leonard), some killer Jazz musicians, including a complete horn section and drawing upon some of the best African American songwriters from the first half of the 20 th century, Billy Vera and his business partner and friend Tamela D'Amico executive produced a stunningly beautiful album, Big Band Jazz, with Vera at its focal point as the singer. The recording was produced by Jimmy Hoyson at Capitol Studio A in Hollywood, California. Billy Vera has built a reputation as a superb music historian and he was recognized in 2013 with a Grammy Award for his work with liner notes and he talks about that experience during the course of our conversation. The album Big Band Jazz is one that you DO want to get the CD for rather than in digital form. The liner notes and the artwork alone make this a collector's item. Vera takes time to provide historical tidbits about the writers who composed the songs on this album and some of the people who recorded the tunes.
"It's an album that I have wanted to do for probably twenty years. I have always wanted to do a big band album and I have always procrastinated and I couldn't get anybody to put up any money for it or any record companies. When Michael Bublé recorded "At This Moment," and sold eight and one-half million records, I took one of the checks and I did it myself.
I had met this girl Tamela D'Amico and she friended me on Facebook. I checked her out on Youtube and all of that and I said wow she's good, she's likes the old stuff. I listened to the album and

Read More