Fashion Designer Pamela Quinzi

Pamela Quinzi, a fashion designer originally from Rome, Italy, via Milan and who now makes her home in New York City, is considered to be one of the rising young stars on the international fashion scene. Her collection of couture shoes, Kilame is popping up in boutiques in Beverly Hills and in New York City and since there are no two shoes exactly alike you can also contact Pamela Quinzi directly through her website and follow her on the official Kilame Facebook page. Pamela Quinzi also has an accessories collection, but her main focus right now is Kilame. In the past she has collaborated with some of the world's leading designers and fashion houses to design dresses, handbags and other accessories and she still does create new designs for dresses, jewelry and accessories. Kilame however is her baby and she works feverishly day and night to grow the international presence of her brand (the shoes) and it has earned her the nickname Cinderella of New York.
During our recent conversation Quinzi was in the southern part of Italy on the coast of the Adriatic Sea for a month where she works closely with manufacturers, creating new styles and in May she will be heading back to Los Angeles for the second time in 2017.
"I had been before to LA for traveling and for checking out everything, but this was the first time for the collection to be in LA and a whole new world opened up to me. I will be in New York and then in Los Angeles for a month in May. I will be with the showroom (in Los Angeles) that is representing the shoes for all of the celebrities. We had a connection with the Oscars through Blanca Blanco the actress. We are (making connections) every day in photoshoots and we have other
Joan Severance - Manifest Your Mate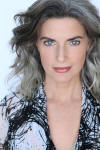 What do you do when you are a super model who has graced the covers of every notable fashion magazine for decades and who is also a film and television actress? You have been the face that launched campaigns for Versace, Armani and Chanel. You were asked to endorse Maybelline, Clairol, L'Oréal and Revlon and you have had a career in which you were in demand as a model for top designers worldwide. Well if you are Joan Severance you are confident enough to let your thick hair stay gray and you write a book called Manifest Your Mate. Severance also acts as a personal coach providing guidance to others in the area of manifesting their mate, as well as other areas of their lives. There may be those who are somewhat dubious about how someone so beautiful and accomplished could possibly understand their plight of attracting Mr. Right to their lives, so we posed just that question to Joan Severance when we chatted with her recently.
"First I would say to them, they are incorrect in making the assumption that I can attract any man that I want. They are incorrect and they don't know my life and I can't (attract any man that I want). You can't just go and get exactly what you want, because of your looks or your status. That's not it. They can make assumptions and I can say the assumptions that they make are probably not only about me, but those assumptions are against themselves.
The book and the content of the book (as well as) the method in the book really have nothing to do with me or with looks. The method is known to work. It is not about how you look, but it is about understanding the power that is within each of us, which is not an exterior power. It lies within every single person, no matter who you are
Pegi Young Releases RAW

Pegi Young's new album RAW featuring her band The Survivors opens with the plaintive song "Why," a question one party or the other always seems to be left asking when a divorce takes place. RAW is Young's musical chronicle of her journey through divorce from Neil Young. "Why," a song written by Kelvin Holly, Spooner Oldham and Pegi Young asks the question "Why'd you have to ruin my life?" The song looks through the eyes of the one being left and she wants to know why he avoided the hard questions and she says he was not straight with her. The playing of Holly, Oldham and newcomer, bassist Shonna Tucker is perfectly balanced and serves as a fine accompaniment to Young's vocals.
Guitarist Kelvin Holly has performed and / or recorded with Little Richard, Bobby Blue Bland and Gregg Allman to name a few. He also was a studio musician at Muscle Shoals. Keyboardist Spooner Oldham was also part of the Muscle Shoals Rhythm section and he has played on such iconic songs as Percy Sledge's "When A Man Loves A Woman," and Wilson Pickett's "Mustang Sally." He co-wrote "Cry Like a Baby," for The Box Tops and "I'm Your Puppet," recorded by James and Bobby Purify, a tune that rose to # 5 on the charts. Shonna Tucker played with the Drive By Truckers and appears on records by Booker T. Jones and Bettye LaVette.
As for the album RAW, Pegi Young says, "When (the album) was done and I was listening to it as I was driving down the road one day, I thought shoot this is like the soundtrack of the stages of grief. It was all over the map emotionally as I was for a good amount of time after things changed as dramatically as they did.
I was fishing around for a title in my

Read More
Jesse & Noah - Southern Usonia

In an alternate reality Jesse & Noah's (Bellamy) album Southern Usonia would be topping the charts in America or at least some of the songs would be, because the lyrics are great, but we have come to expect that of this duo, and there are some great guitar solos that make your ears perk up. It just so happens that the album title plays to that alternate reality.
Jesse explains, "It could refer to the American South in an alternate reality."
To which Noah adds, "Usonia is an archaic term for the United States that was favored by Frank Lloyd Wright and some other great thinkers of his day. Everyone in Americana was making "identity" albums. It plays with that idea by coming from a place that doesn't exist. It's an imaginary identity album!"
The ten track album opens with "This Town Was Built On Heartbreak Songs," which pays homage to Nashville where both Jesse and Noah live. The companion music video has cameo appearances in the audience by some storied musicians, singers and songwriters.
Noah explains, "We wanted people with some history behind them. We put the concept out there and ended up with a group of legends with a deep history in Nashville (such as), Tanya Tucker, Deborah Allen, T. G. Sheppard, Ronnie McDowell, and (of course) the Bellamy Brothers (David Bellamy is the father of Jesse and Noah and Howard is their uncle)."
Jesse says, "We knew that we wanted to do a video, but ultimately we didn't know what form it would take. Our friends at the
October Wish from Australia
Sarah Gurry and Matt Leffanue from Melbourne, Australia comprise the musical duo October Wish who just released their first album Grief And Grace. If you are looking for a reference point for their music you are going to find that a little more difficult genre wise, because they do an excellent job of blurring those lines, while keeping the songwriting and the music at a high level. There is a little bit of Blue Rodeo's "Try," in their music, a touch of Matchbox Twenty's "3 AM," a dash of another Melbourne, Australia band, Crowded House's "Don't Dream It's Over," and a smidgen of Coldplay, reflected Gurry and Leffanue's songwriting.
The production quality on Grief And Grace is excellent with producer Michael Oliphant at the helm. Oliphant who is also a superb keyboardist, singer and songwriter is well-respected by those in the Australian music community.
Sarah Gurry talks about their music, "Because we took so much time (the album was recorded over three years) and we weren't scared to take time with it we didn't race any of the songs over the line. I think it has a natural breath about it and sometimes it opens up into orchestral moments that really just showed us what they wanted us to do. Probably one of the best examples is the song that we just debuted as a clip ("Caught Up In This Lie"). Going into the recording process we thought we would have to rewrite it. Matt at one point wanted to ditch it. My partner Johnny was saying that's my favorite song. You've got to keep it
Jenny Jones - Fall Off the Bone Ribs
Jenny Jones hosted her own nationally syndicated talk show but that was just one of many jobs that Jenny has held, including waitress, bookkeeper, author, comedian, musician, singer, songwriter, caterer and chef.
Jenny Jones Fall Off the Bone Ribs
This is a never-fail recipe and it's so easy. Rub and cook ribs right away or rub and refrigerate for a few hours. Using a disposable foil pan or a foil-lined pan means no cleanup. These amazing ribs are equally delicious finished in the oven or on the grill. Don't expect leftovers! - Jenny Jones
Prep Time: 15 minutes
Cook Time: 2 hours and 30 minutes
Total Time: 2 hours and 30 minutes
Makes: One rack of ribs
Ingredients:
one rack of pork baby back ribs
juice of one lemon
1/4 cup of dry rub

Read More
Valerian - A Film Review

In a studio interview actress Cara Delevingne talks about why she was drawn to the character of Laureline in Luc Besson's Valerian and the City of a Thousand Planets, because Laureline is a strong female character, something for which Besson is known. The twenty-five years old actress turns in an absolutely smashing performance in the role of an intergalactic agent and hero.
The only misstep in the opinion of this writer that the studio made was dropping the name Laureline from the title of the film or perhaps more accurately put since the film was based on Pierre Christin and Jean-Claude Mézières' comic book series Valerian and Laureline. You have a strong female lead and at a time when young women and girls need to see women in strong female roles and someone at the studio decided to only include the male character's name in the film's title. That aside Valerian and the City of a Thousand Planets is a film that should be seen more than once…at the theater. If we want to continue to see quality films made then we need to support them at the box office.
For his part, Dane DeHaan portrays Valerian with a mix of the charisma and charm of Michael J. Fox's Marty McFly in Back to the Future and some of Harrison Ford's reckless abandon as Han Solo in the first Star Wars film. Major Valerian wants to be a good soldier, but his impulsive nature sometimes clouds his joint missions with Laureline. He also has a flirtatious side that at times frustrates his partner Laureline and rather than spoil this film

Read More
Lene Fogelberg - Beautiful Affliction

It almost does not seem appropriate to refer to Lene Fogelberg as an author, because that moniker almost sounds too distant, too formal, for the young Swedish woman, for really she is a storyteller and that has a much warmer feel to it, as does her book, Beautiful Affliction A Memoir. Not many people write their Memoir when they are still thirty-something, but Lene Fogelberg has already lived a lifetime and more. Her story begins as a young child in Sweden when the doctors determined that there was absolutely nothing wrong with her health and how throughout her life when it became apparent that something was going on inside of her and that she could not do even the simplest of activities without tiring quickly, that indeed something was wrong. This is also a love story, about the love of Lene and her husband Anders who met when Lene was twelve years old and he was fourteen. It is the love of a family, their two young daughters and Lene and Anders' parents. It is about how Anders' job transfer to America for the briefest period of time, slightly more than a year, became the catalyst in enabling doctors to discover that if Lene did not have open heart surgery quickly that she would die.
Like no other book that we have ever read before Beautiful Affliction A Memoir will have you crying, will have you believing once again that miracles really do happen and will have you grow in admiration of Lene Fogelberg and be moved by her husband's devotion to her. The book