Asha Puthli In The Studio Again

Pop / Jazz singer Asha Puthli. with some assistance from her friends Ron and Mara New, has been recording songs for a new and yet to be named album. When Ms. Puthli left her homeland India in the 1970's and traveled to America on a dance scholarship, armed with a background in Classical and Opera music, her goal was to bridge the Indian and American cultures and to record and perform the type of music she had listened to on the radio shows Voice of America, hosted by Willis Conover and Radio Ceylon.
"I listened to what was called Radio Ceylon in those days and now it (the country) is called Sri Lanka. I was fascinated by Jazz, because of the similarity of Indian music and Jazz in so many ways, in the sense of the freedom and the improvisation quality and a lot of it used chords (similar to) raga music, which I was studying. It was Jazz, which I was so passionate about, but it only came on for an hour. The other one was the Voice of America. Radio Ceylon taught me Rock and Roll. It had Elvis Presley, Pat Boone and Cliff Richard. Little did I realize that one day I would meet Pat Boone and one day I would do a television show with Cliff Richard. A year and one-half after I left for America Willis Conover, was playing Ornette Coleman's album that I had sung on, so it was like a cycle coming complete.
In Willis Conover's autobiography called Broadcasting To The World he mentions John Coltrane and me as being the first people to bring Indian music to Jazz and mixing the two genres of music," says Asha Puthli.
Kimmie Rhodes & Cowgirl Boudoir

Cowgirl Boudoir an album released in March of this year by Kimmie Rhodes on Sunbird Records is a family affair, as her daughter Jolie Goodnight appears on background vocals and one of her two sons Gabriel Rhodes produced the album. There were songwriting collaborations with friends Johnny Goudie, Colin Linden and Gary Nicholson, while others were written either solely by Kimmie Rhodes or in collaboration with Gabriel Rhodes. The songs once again demonstrate Rhodes' prowess as a songwriter and why over the years iconic artists such as Emmylou Harris, Peter Frampton, Mark Knopfler, Willie Nelson, Wyonna Judd, Waylon Jennings and several others have recorded the songs that she has written.
"Cowgirl Boudoir is a musical experiment we decided that we would have. I have been working as an associate producer on a documentary that is going to be presented by the Country Music Hall of Fame and (I am working) with a producer named Eric Geadelmann. It covers the period of time from the late sixties until the mid-eighties. This is when all the different influences started to come in and a lot of people came back to Country music, with The Byrds and Dylan and all of that. When I did my show Radio Dreams I listened to a lot of different music. I was revisiting a lot of music. For (many) years I was writing a lot and focusing on that and I wasn't really listening that much to what other music was out there. Then I did the Covers record and I also started working on this documentary. I really revisited a lot of the music from that era and I became more and more aware of the influences that are in my music.
Johnny Goudie is a guest on my record and I sing with him on his song "I'm Falling." He is a young writer and to me his voice sounds like a young John Lennon. I love his voice and I love
Tomorrowland - Film Review

Director Brad Bird in his comments about his new feature film Tomorrowland comments, "It is about the journey not the destination," and that is a very apt way to perceive this film that boasts a tremendous screenplay and storyline crafted by Brad Bird (The Incredibles), Damon Lindelof and Jeff Jensen. The movie starts off with a dialogue between George Clooney's character Frank Walker (as an adult) and Casey Newton portrayed by American actress Britt Robertson. It is a conversation that takes place in the here and now or is it in the future? It is a film that compels us to take a look at decisions and choices made in the past that guide our present lives and that dictate future outcomes.
This movie has a little of everything in it. There is action, drama, humor, some great special effects and there is a hint of romance, but not in a way that you would expect. Most of all there are outstanding acting performances of course by Clooney, certainly by Robertson, but also from thirteen year old British actress Raffey Cassidy as Athena the common thread between Frank Walker and Casey Newton. Child actor Pierce Gagnon also puts in a solid performance, as Casey's brother Nate Newton. Hugh Laurie appears as David Nix, but his acting is somewhat limited by the narrow emotional scope of his character and we will leave it at that, so we do not spoil the plot. Amazingly enough Raffey Cassidy is rumored is said to have performed a number of her own stunts (as revealed in a studio interview with Robertson) and during her own interview Cassidy talks about taking martial arts lessons and gymnastic lessons to prepare for her part in this film. Audiences are going to fall in love with the charming Raffey Cassidy and who the young actress is when she is not in front of the cameras seems equally as charming. Tim McGraw appears as Eddie Newton, the father of Casey and Nate.
Cherie Currie Interview / Review

If you only have enough money to buy one album this year then buy Cherie Currie's brand new album Reverie. Cherie's vocals have never been better and the song "Inner You," is an absolute musical gift. The album is produced by Jake Hays, Cherie Currie's son and he contributes vocals to many of the songs and takes the lead on "Shades Of Me," another treasure. Reverie is
the best Rock album that Riveting Riffs Magazine has heard in many years.
In the 1970s Cherie Currie was the lead singer of The Runaways, an all-girl teenage group managed by the late Kim Fowley. Although, there is no doubt that Reverie sends a loud and strong message that Cherie Currie is an exceptional solo artist, she collaborated on the songwriting portion of this album with Fowley and Hays and Lita Ford another former member of The Runaways lends her vocals to Currie's new album.
Cherie Currie sat down with Riveting Riffs Magazine to discuss her new album, three days after it was officially released through iTunes.
She says, "It took over a year (for the album to come together) and it happened when Kim Fowley reached out to Blackheart Records to see if there was any paper (legal contract) between myself and them, which I did not have one. He had heard that I had said that I would work with him again, so he reached out to me, knowing that I was a free agent. Working with Kim again was something that I wanted to do. It was a way to bury the past and to start over and that's what we did."
Tamara Champlin - Rockin'
Tamara Champlin's vocal and songwriting repetoire is as diverse as the cities in which she has lived. Born in St. Louis, she lived her early childhood years in Arkansas, had a brief stop in Chicago and graduated from high school in Houston, Texas and today she makes her home in southern California. Champlin has the ability to belt out a Rock song with razor sharp and gritty vocals as she does with her original "Stone Cold," also recorded by Paul Rodgers (Bad Company, The Firm, Free, The Law), for his album Laying Down The Law and the Rock / Funk "You Won't Get To Heaven Alive," another original creation by Champlin bears witness to vocals that are reminiscent of Janis Joplin. Tamara Champlin draws the listener in with her emotive phrasing on the mid-tempo, love letter "Chasin' The Moon." Her "Backstreets of Paradise," immediately gets you moving to the music and as good as the music is, throughout these songs, it is definitely Tamara Champlin's powerful and quality vocals that drive these tunes.
Tamara Champlin has three gold records to her credit as a songwriter and her own album, "You Won't Get To Heaven Alive," charted in the top twenty in Spain, while her song "Tragic Black," went all the way to # 1 in Germany.
She has collaborated with artists and songwriters as stellar and diverse, as her husband Bill Champlin (Chicago, Sons of Champlin), Michael Caruso (her longtime songwriting collaborater), Swedish songwriter, producer and musician Douglas Carr who has worked with some
Ellen Johnson and Sheila Jordan

Sheila Jordan is one of Jazz music's greatest innovators and as a singer she has more than once influenced the direction and styling of singers who followed in her footsteps. In 2012 the National Endowment for the Arts gave its most prestigious award in Jazz music, the Jazz Master to Sheila Jordan. The recognition that Jordan received is particularly noteworthy, because she made her mark in bebop music at a time when it was a difficult path for most women. It was not the first time that Sheila Jordan had a prestigious award bestowed upon her. In 2008 Jordan received the Mary Lou Williams Women In Jazz Award and she has been honored as the recipient of numerous other awards. In late 2014 Ellen Johnson, a vocalist, lyricist, actress, writer and educator had her book Jazz Child A Portrait of Sheila Jordan published.
Ellen Johnson says, "Sheila Jordan was the only singer at that 2012 award and she was the only woman (to receive the award that year). That is significant, because there are not a lot of women (who have received) the NEA Jazz Master award. It was a very, very important award for her. I think more than anything it was the acknowledgement that she stood with her peers at the same level. I know how much she loved Charlie Parker and how she loves all of the musicians who are here, but who also those who have passed away. Think about the people that she was with, the people she was hanging around with and whom she was influenced by, Charles Mingus the first bass player that she ever played a live performance with, you have Lennie Tristano, Charlie Parker, Sonny Rollins, George Gruntz and George Russell. These are some of the heavyweights of our Jazz world. To be recognized (with the Jazz Master award) was a huge, huge thing for her and it was
Julie Budd Interview

She was born Edith Claire Erdman, in Shore Haven, New York, the daughter of Saul and Joan and when she was three months old her parents bought what she describes as "a big old house" on the corner of 54 th Street and Avenue K in Brooklyn. You have known her for most of her life as Julie Budd, a prolific singer and a well-respected vocal coach. She was one of three daughters and her immediate and extended family was instrumental in cultivating a love for music early in Julie Budd's life.
She recalls, "My mother was an outstanding singer, not a good singer, she was an outstanding singer. My grandfather, my mother's father, used to write music and so did his brother. There were a lot of people, my cousin Emily Remler was a world class, Grammy Award winning international star. She was a very famous guitarist."
Then the memories start to flow and you can hear the warm glow in Julie Budd's voice as she says, "My sister Jill took me into Manhattan to see Fiddler On The Roof. I was about ten or eleven years old and I had never seen a Broadway show before and it was a matinee, a Sunday matinee or something and Jill took me on the train from Brookyn. In those days, it is not like today (her voice deepens), people go to the theater and they don't look all dressed up and that annoys me. It really annoys me, you see a ten million dollar production and somebody is wearing shorts. I still get dressed up and I got very dressed up that day and so did Jill. We went into Manhattan and we saw Herschel Bernardi in Fiddler On The Roof and it was glorious (you can still hear the excitement in her voice). I will never forget the opening scene, it was the bottle dance. Remember the bottle dance? I couldn't even breathe it was so exciting.
Meja Is Tying Yellow Ribbons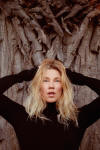 Swedish singer, songwriter and human rights activist Meja will be releasing her 11th album (two of which were with Legacy of Sound) Stroboscope Sky in April and it will feature original songs such as, "Blame It On The Shadows," and "Sleepless." Since making a big splash on the music scene in Sweden and America in the early to mid nineties with Legacy of Sound and co-writing the Dance hit "Happy," with Anders Bagge, a song that charted on the Billboard top ten in America, Meja has become a music icon at home in Sweden, a superstar in Japan and is highly respected in the American music community, as well as many other countries. In addition to her songs "Happy," and "All 'Bout The Money," American music fans may remember Meja for the duet and music video "Private Emotion," that she recorded with Ricky Martin. Music however, is not the only thing that Meja is passionate about, as she is an accomplished painter and sculptor and she is a human rights activist. She is currently collaborating with Amnesty International to draw attention to and to seek the release of an American, Albert Woodfox from Angola prison in Louisiana where he has spent the past forty-two years in solitary confinement for a murder conviction that has been overturned three times by the American courts, but the state of Louisiana has refused to honor those appeal decisions and Woodfox has remained in jail.
Meja wrote the song "Yellow Ribbon," (not to be confused with a song of a similar name made popular by Tony Orlando and Dawn) and on January 15 th of this year released the companion music video to draw attention to the