Madeleine Davis - One of a Kind!

If we told you that Madeleine Davis has lived a life full of adventure some might easily argue that is an understatement. She grew up the daughter of a Gospel singing mother, and a pharmacist father in Columbus, Georgia, near the Chattahoochee River, with one sibling, a brother at home and a sister eighteen years older, who had pretty much left home by the time Madeleine appeared on the scene.
Madeleine Davis had a lengthy career with Boney M (By the Rivers of Babylon, Rasputin) and a small sample of her work in the studio and / or live performances includes artists such as Precious Wilson, Hoyt Axton, Peggy March, Terence Trent D'Arby, Rick Astley, Klaus Doldinger, La Bionda and Amanda Lear. She was in demand by producers such as, Ralph Siegel, Tony Monn, Michael Kunze, Sylvester Levay, Giorgio Moroder and Frank Farian.
She sang in church as a young child, acted on stage as a teenager (there is a motorcycle story we will get to in a minute) and she was a soloist with the Atlanta Symphony Orchestra, while still in university.
"My father was a lot older than my mother. He was fifty-nine when I was born and he was seventy-five when I was eighteen.
I grew up with a father who was in World War I. He had so much information for me when I went to school. When he was a paperboy the Titanic sank, so he knew the information from the newspapers of that time. He told
The Bablers from Finland

"In all art you have to do something that is meaningful for you. If it is not meaningful for you it will not touch another heart," says Finnish singer, musician and songwriter Arto Tamminen of the band The Bablers. "It has been a bit scary, especially when it comes to the Psychadilly Circus album some of the songs are deep and even spiritual and very personal. They are not just Pop nonsense.
Talking to us from his home in Finland, the affable protagonist of this conversation explains when and how the band's name was birthed, "When young people are choosing the name for a band it is not always logical and it can be quite chaotic. In many cases later on many bands regret (the name they chose). In this case we don't. It came from the word babble or bubbling. It is active. Then we took one "b" out of the word and it looked right. We ended up using it and we never looked back since. I think one of the most important things with a band's name is it has to stick in your mind. Many of the crazy names stick there.
We (Janne Haavisto) were located in the same area and we were friends. Many of us went to the same school. The drummer Janne Haavisto's older brother and my older brother were great mates. Janne's brother's band rehearsed in the basement of our house. I come from a family with five children and we lived in quite a big house. They also had great parties (he laughs). I was there as a little boy in my pajamas listening to how they played the old Blues stuff and Irish Folk music. Janne and I just became friends.
I started to write songs from the time I was ten or eleven
Kincső Nóra Pethő
- Actress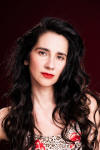 Fresh from performing as a futuristic computer from the year 2100 who is named after the Greek goddess of earth Gaia IA 01, and who sends a message back to today to warn others about a pending environmental apocalypse unless we change our ways, Hungarian actress, choreographer and dancer Kincső Nóra Pethő sat down for a conversation with Riveting Riffs Magazine, over Skype.
Obviously, only the Gaia part is taken from the Greek goddess, as Kincső Nóra Pethő explains, "I am like a computer program from the future who becomes a real person by the end of this 70-minute show. It was called Heroes of the Future and it was part of Planet Budapest 2021. There were about fifty actors and actresses working on this project, which was intended to raise the interest of kids for protecting the environment. For one week (in early December) the program ran from morning until evening. It was a wonderful experience to see how enthusiastic the kids were! I felt great about contributing to such a good goal!"
Continuing she says, "We talk to the children about how in the year 2100 there is not enough air, and the environment has been destroyed. (The message is) they have to be conscious of what they are doing in the present in 2021.
When we had some rehearsal groups and I could see a small guy, who was ten years old and he wore glasses. I was sitting in a box and at first, they could only hear my voice. They could not see me. I could see the boy talking to the other kids. We wanted it to be
Beatrix Löw-Beer
- German Violinist

While on her way from Munich, Germany to play a gig in Frankfurt, uber-talented saxophonist Beatrix Löw-Beer, whose performances have taken her to England, the United States, the Netherlands, Spain, Ibiza, Mallorca, Italy, Luxemburg, France, Austria, Switzerland, numerous other European countries, Jordan, Egypt, Lebanon, Dubai and some parts of Asia, took time to talk to Riveting Riffs Magazine about her career and her life. The very congenial Beatrix Löw-Beer, while setting a high standard for herself, is as nice a musician as you will meet. She has been compared to her contemporaries, celebrity violinists such as Vanessa-Mae from England via Singapore and American violinist Lindsey Stirling. Beatrix Löw-Beer has performed with such stars as Rod Stewart, Dutch singer Caro Emerald, award winning Pop singer Sarah Connor, the first German performer to ever have four consecutive #1 hits on the German charts. Beatrix Löw-Beer's music ranges from Classical to Rock to House, Pop, Jazz and everything in between.
Artists such as Beatrix Löw-Beer are the reason why people are discovering the saxophone for the first time. When you watch her concert performances or videos to promotional videos everything from her movement to her attitude and her costumes exhibits an exuberance for performing music. One is never left with the impression that you are watching someone playing an instrument, because her saxophone becomes an extension of her persona.
Take us back to where this all began.
"I grew up in Augsburg, which is one hour from Munich, which is the capital of Bavaria. It is in the south of Germany, very close to Austria. Augsburg is the third largest
Rain Perry - A White Album
A White Album, by American singer and songwriter Rain Perry, which will be released on April 15 (2022) is a lot of things, a collection of songs with an activist theme, some original and some covers from music icons, it is heartfelt, and it is sincere, but what is most of all is very, very good. It was our pleasure to sit down with Rain Perry recently to discuss her new record and why these songs are so special to her.
She says, "It is definitely a concept album. It is somewhat of a sequel to my album Cinderblock Bookshelves, and it was a memoir in music about me growing up as a hippie kid raised by my dad. This record, A White Album, is me looking back at my same life and my same family, but through the lens of race. It is called A White Album, because it is me telling my story. I think most larger topics are best addressed through people and it is my way of wading into a fraught conversation and to talk about some issues that we seem to be having a hard time talking about right now."
Although the common thread is raising awareness of societal issues, the songs on the album do not come across as preachy or even protestation, but instead seem to be asking the question, why are we still here after all these years, far removed from the civil rights movement of the 1960s and yet in many ways the needle seems to have barely moved.
"Thank you, that is what I was shooting for. I think the best way to empathize is getting to know somebody and to see the way they are trying to solve the problems we are all trying to solve, how to be happy, to be fulfilled, and to be successful in life. I don't think anybody really changes by being lectured.
Bureau Of Magical Things

In 2021 The Bureau of Magical Things, season two appeared once again on television in Australia and recently season two which had limited exposure on American television last year, showed up once again streaming on Netflix. Season one laid the groundwork for us of a world in which fairies, elves, humans and trilings, the latter of which are a hybrid, elf, fairy and human exist, but not coexist. With various themes running through the episodes of acceptance of others when they do not look like us and in some cases do not act like us, to the immortal struggle of evil versus good and some very subtle teenage romance.
There is more than one instance of the suspension of disbelief, the first being that this group of high school students who belong to a secret magical order are, well the actors are all even at the time of filming of university age or slightly older. Hey, they are not the first television series to go there and they will not be the last. Tom McSweeney and David Newman did a wonderful job of casting for the series. I suppose if pressed we could say that Kimie Tsukakoshi as Kyra is the star of season two as the plot for the most part revolves around her character, but her co-stars shine too, with the brother and sister team in real life and in the show, Elizabeth and Julian Cullen, as Imogen and Darra respectively. Lilly is played by Mia Milnes, Jamie Carter as Peter, and Rainbow Wedell as Ruksy. Their teacher in the school of magic is Professor Maxwell portrayed by Christopher Sommers. Oh, let's not forget ladder. What you say? Watch the show and you will understand.
This season we find the group of magical friends looking for three keys and a hidden temple and at every turn in both the present and the past evildoers are after them. That
Sylvia's New Album

Nature Child - A Dreamer's Journey released recently by Sylvia Hutton, better known to music fans all over the world as the American Country Music Award, Billboard's # 1 Country Music Female Artist and Grammy nominated singer Sylvia, is one of the most beautiful collections of story songs you will hear this year. With numerous # 1 and top ten hits to her credit, the former RCA artist, who has for many years recorded as an independent artist, once again collaborated with longtime friend John Mock (Dolly Parton, The Chicks, James Taylor, Kathy Mattea). Other co-writers includes Verlon Thompson, Craig Brickhardt and Thom Schuyler.
The opening song for the album "Avalon," transports the listener to Camelot and the days of King Arthur. Sylvia and Verlon Thompson wrote "Avalon," a beautifully orchestrated song with lush vocals by Sylvia. For any child, any teenager, any adult whoever wished you could close your eyes and open them to find yourself in a magical place, Sylvia invites you to take her hand to travel to a place where the walls are made of freedom and every tear becomes a shining star.
Normally, we would not credit so many musicians, but they earned their due on "Avalon," guitars, both electric and acoustic by John Mock, as well as mandolin and percussion. Matt McGee played bass, Skip Cleavinger played the Uilleann pipes, oboe by Somerlie Pasquale, Emily Bowland on clarinet, trumpet (Jeff Bailey), French horn (Jennifer Kummer), violins by Conni Ellisor and Mary Kathryn Van Osdale, viola (Betsy Lamb) and cellist Nicholas Gold.
About the musicians,
Stranger Things Season Four

If you have followed the Netflix series Stranger Things from season one, you have watched the cast members grow up before your eyes. While Millie Bobby Brown garners most of the attention as Eleven or El, it is the depth of this cast and the superb casting by one of the industry's best Carmen Cuba that has allowed the show to maintain fan interest despite lengthy delays in launching season four, mostly due the COVID pandemic. On May 27th Netflix gave us the first half of season four, with Volume Two scheduled to stream on July 7th.
Matt and Ross Duffer wrote some great scripts for season four and further diversified both the cast and the locations. The result is we have five parallel stories within one greater story, but all of them linked. Will (Noah Schnapp) Jonathan Byers (Charlie Heaton) and Mike Wheeler (Finn Wolfhard) are traveling all over the United States for various reasons, with their newfound friend the eccentric Argyle played by Eduardo Franco. If you want to know why they are traveling you will have to watch the series.
Back at home in Hawkins, Nancy Wheeler (Natalia Dyer), Steve Harrington (Joe Keery), Dustin Henderson (Gaten Matarazzo), Lucas Sinclair (Caleb McLaughlin), Robin (Maya Hawke) and Max Mayfield (Sadie Sink) are fighting monsters once again from the Upside-Down world. The chemistry within this group of actors makes the show worth watching and they are joined this season by new character Eddie Munson played by Joseph Quinn. There is a little bit of everything within this group, romance, adventure, they are on the run, new friendships form and old relationships…. well, you will just have to watch the series,