Kimmie Rhodes Interview

"They call me "Battleship Kimmie," because I never stop. I come from the land of tornadoes, so I kind of am one," platinum selling Texas songwriter and singer Kimmie Rhodes told me during a recent telephone conversation from her second home in the south of France. Kimmie Rhodes is an accomplished playwright, her songs have been recorded by artists such as, Willie Nelson, Trisha Yearwood, Mark Knopfler, Peter Frampton, Wynonna Judd, Joe Ely and CeCe Winans and during parts of 2012 and 2013 she produced and hosted a very good radio interview show on KOKE FM in Austin, Texas.
Recently, Kimmie Rhodes took time out prior to her European tour to talk about her new album Covers, which is just like it sounds a collection of cover tunes, the first record of this type during her career. She also talked about her radio show Radio Dreams that is now being transformed into a private project of her own and she touched upon a new film endeavor in conjunction with the Country Music Hall of Fame in Nashville.
"I wasn't sure how people were going to receive the songwriter recording other people's songs, but Willie (Nelson) was my inspiration and with the songwriter he is and he got away with making Stardust (1999 CD, with songs such as "Georgia On My Mind") then maybe I could get away with recording other people's songs once in my life.
It's something that I wanted to do for a long time and I have been thinking about it. As a songwriter I pretty well always said, I didn't keep a journal, because my songs were my journal and I have a lot of songs going, but after Joe Gracey (her husband) died (November 16, 2011), I had a
Detroit Rocker Scott Dailey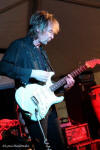 Offstage Detroit born and raised singer-songwriter and musician Scott Dailey is quiet and appreciative, not exactly what one might first expect from a guy who produces musical lightning bolts from his guitar and whose gravelly, but excellent vocals on stage immediately causes conversations to cease and eyes and ears to focus on the man singing "Game Of Hearts." The song, which appears on his new album So Much Time To Burn, was written many years ago and he recently breathed new life into a tune that serves up reminders of Bruce Springsteen and Pete Seeger at their best.
"I wrote that ("Game Of Hearts") a little ways back. I wrote it and then I forgot about it. I was playing it on my guitar (recently) and singing it and Carolyn (Striho his singer-songwriter-musician wife) was like, what's that? I said, I don't know, it's a song I wrote a while ago. She said, that's a great song and she inspired me. I had to play it a couple of times to remember the whole thing again. It is about a guy who takes advantage of everybody and it is coming back on him and it wasn't specific about any certain person or anything. I don't know what made me think of that at the time. I really liked it and we started playing it in the band and it sounded good. Carolyn talked me into recording it," Dailey recalls.
The song "Game Of Hearts," has a laid back melody juxtaposed to lyrics that bite, as the singer takes a look at a guy who has emotionally abused others and who has disguised his true intentions, "they all play a part in your great charade." The tables have now turned and the questions are posed "Did you notice how things changed? / Is it crazy how things got rearranged? / And now you're scrambling for a side to be on / With your gentle seduction / It always seems to end up in your own self-destruction." Scott Dailey's
Join Najee For A Musical Journey

The album is called The Morning After: A Musical Love Journey and the artist is saxophonist, flautist and composer Najee. He has two platinum albums and two gold albums to his credit, as well as multiple Grammy Awards. He has worked on stage and / or in the studio with Chaka Khan, George Duke, Stevie Wonder, Prince, Herbie Hancock and Quincy Jones. The current album allows the listener to share in Najee's musical journey and his career, as well as the sights and sounds of some of his favorite places that he has visited around the world. The album opens with Najee talking to himself, as he waits at the airport for a friend to arrive, wondering what is keeping her and if she will make it to the airport on time to catch their flight. She does and we hear Taschi Lynell's voice, as she greets Najee at the airport.
Najee explains, "The idea was a couple is meeting at the airport to go on a journey. It starts with me at the airport waiting on somebody and finally they show up and the first song is "Rendezvous," and that's our rendezvous. We go to different places where I have been fortunate enough to visit throughout my career "San Tropez," (3rd track), which is in the south of France. We then go to different places around the world and we end up on West 72 and Broadway where I spent part of my childhood. Of course after that we have a morning after.
The whole idea was to just create a different angle. There are a lot of great records out there with instrumentalists. The one thing that I feel has been lost in the recording industry is a personal touch by the artist. That is the way records have been done over the years. George Duke until he passed away he did that. To me your music should connect with the audience, engage them and keep them interested. It is to have something personal by the artist and not just be a great musician. In my case, you have how many great saxophone
Jolie Goodnight - Austin, Texas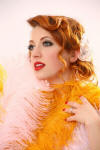 You have only listened to a few lines of the Eric Maschwitz and Jack Strachey song "These Foolish Things (Remind Me Of You)," and already your ears are on high alert. Who is the singer with the fabulous voice and whose vintage timbre is so enchanting? She is Austin, Texas native Jolie Goodnight and her vocals are enveloped by the silky smooth instrumentals served up by a stunning array of musicians. On drums is Dony Wynn (Robert Palmer), pianist and trombonist Michael Thompson (the Eagles), bassist Glenn Fukunaga (Robert Plant, The Dixie Chicks, Dr. John), Jon Mills (clarinet, saxophone), Kevin Flatt (trumpet), Brian Standefer (cello) and playing guitar is Gabriel Rhodes. The album is Say Goodnight Gracey, is a nod to her father the late Joe Gracey whose fingerprints are all over the Austin music scene, as a musician, a producer, a DJ and the person who originally recruited the artists to appear on the television show Austin City Limits. The title of the album also pays tribute to an era of music and entertainment in general of which Jolie Goodnight is quite fond.
"My parents would always kid around with me when I was a little kid and they would say, "say goodnight Gracey," and I would say, "say goodnight Gracey." I loved that as a kid and it is a reference to vaudeville style and yes I know the original spelling was Gracie (a line from the vaudeville act of George Burns and Gracie Allen). I also wanted to go ahead and have a nod to daddy and to say thank you," she explains.
Accompanied by Michael Thompson's elegant piano and Kevin Flatt's muted trumpet, Jolie Goodnight turns up the heat with the scorching "My Daddy Rocks Me," and Goodnight's
Legally Blonde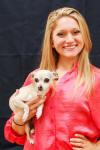 The musical Legally Blonde, as presented by the Clarkson Music Theatre opened on Friday November 17th and once again Canada's longest continuing operating music theatre company put on an outstanding performance with Emilie Westbrook in the lead role as Elle Woods. The musical is produced by Rita Ferguson, Christine McMahon and Nick Forrow, with musical direction by Jenny Pearce and the artistic director and choreographer is Renee Beiforte. Legally Blonde, which is being staged at Meadowvale Theatre in Mississauga, Canada was presented for three nights on the opening weekend and will also run November 21,22,23,24.
As with any production of this size it is simply impossible to give individual credit to all of the cast members, so we shall focus on just a few of the actors and say that there is not one weak member of this cast. Renee Beiforte did an excellent job with the dance numbers and the cast members were up to the task. The live orchestra did a good job, as they always do. We do not want to serve up any spoilers for those who are not familiar with Legally Blonde, but we will say this the highlight of the show comes in Act Two during a court room scene when the cast sings "Gay or European." This was a spectacular performance that would rival any major production, in any city and on any stage. The singing was good, the actors were tremendous and the energy level was high.
Legally Blonde centers about Elle Woods whose boyfriend Warner Huntington III breaks up with her on the eve of his departure to
Sweden's Susanne Ericsson
This has been a highlight year for Swedish singer-songwriter-musician Susanne Ericsson, as she has been busy performing and now she has become a very popular keynote speaker. Susanne Ericsson was interviewed on Dutch television in August of 2013 and in September Ms. Ericsson was interviewed by and performed on TV Sydväst the public broadcaster in Sweden.
"The program TV Sydväst recorded about my music, my life and my journey was a huge success and the link to the program actually broke the station's previous records for the number of views. The program has now been rebroadcast several times on the Open Channel. During the one hour interview I sang six of my songs," says Susanne Ericsson.
In late October Susanne Ericsson appeared on the fashion runway modeling iconic and award winning couture fashion designer Gunilla Ponten's clothing at a celebrity fashion event that was attended by many prominent members of Sweden's entertainment industry. Gunilla Pontén has created designs for Emilio Pucci, she is well-known for her film and theater clothing and shoe designs and she has authored numerous highly acclaimed papers concerning fashion design.
Ms. Ericsson says, "It was an honor modeling iconic fashion designer Gunilla Pontén's beautiful clothes! I
Country Music's Joanna Mosca

Joanna Mosca in some ways represents the antithesis of what people often envisage when they think of a Country music singer. She did not grow up in a small town in the mid-west or a southern state, driving down dusty roads in a pickup truck. Joanna Mosca, the daughter of an Italian mother, Vinnie and her father Ray, was the younger of two children in a West Hartford, Connecticut home. There were Country influences, as her father, who was an accountant, was a big Patsy Cline fan, but she was also listening to James Taylor and Carole King.
She is an ardent fan of Bonnie Raitt and Joanna Mosca says, Raitt's song "I Can't Make You Love Me," became a lullaby for her son when he was a little boy.
"I would sing to him "I Can't Make You Love Me," and he would say, mommy I want the bed song, the bed song. She sang 'Turn down the lights, turn down the bed.' The lyrics were certainly not appropriate for a child, but (she laughs) he loved the sound of that song and I loved the song so much it became his bedtime lullaby.
I also love Annie Lennox, who is a wonderful Rock singer. Do you remember Heart? The Wilson girls, my God, I remember as a young girl trying to sing those songs," she says.
Fast forward, and today Joanna Mosca is far from singing people to sleep as her distinctly Country song "Dream On Savannah," and the accompanying music video has been causing heads to turn. The song written by
Mark Winkler and Laura Nyro

If the songs of Laura Nyro, who was one of the most celebrated Pop singer-songwriters of the 1960s and 1970s were to be interpreted in a Jazz idiom then it is only fitting that they are recorded by another critically acclaimed singer-songwriter Mark Winkler, who saw Laura Nyro in concert nine times. Winkler who is a platinum award winner has had more than 150 of his songs recorded and / or performed by artists such as, Dianne Reeves, Randy Crawford, Liza Minnelli and Lea Salonga. He has collaborated with Wayne Shorter, Dexter Gordon, Joshua Redman and David Benoit, writing lyrics for their compositions. The Laura Nyro Project is his twelfth album and this fall he will be co-releasing with Cheryl Bentyne (Manhattan Transfer) the Jazz album West Coast Cool. Winkler's accomplishments also extend to the theater where Naked Boys Singing! which he co-wrote, is now in its second decade playing Off Broadway. He collaborated on songs for the musical revues Bark and Hanging Out! His Jazz noir musical Play It Cool garnered a Los Angeles Times Critic Choice accolade, while he received L.A. Weekly and Backstage West awards for Naked Boys Singing!
Relaxing in his home in Los Angeles Mark Winkler ponders my question as to why he chose Laura Nyro as the subject of his current album. "Laura Nyro is my favorite singer-songwriter. I have liked her since I was eighteen years old and now I am much older than that, I am 63, so I have liked her for a long time. There are some people that I liked at that age or I liked a little bit later or whom I still like, but I don't like them as much. I see that they have aged, but Laura is timeless to me