Joy Burnworth

Anderson is the name of a city in Indiana and it also happens to be the name of a very good musical duo of the same name. The duo comprised of Joy Burnworth and Howie Anderson draws its name from both Howie Anderson's last name and the fact that Joy Burnworth grew up in Anderson, Indiana. The American duo boasts a ton of experience and talent, as Burnworth has worked with producers David Foster, Gerry Gallagher (Led Zeppelin, ACDC) and Matt Hyde (Jonny Lang, No Doubt). She has performed at both the Academy Awards and the Emmy Awards and Burnworth has opened for artists such as Buffalo Springfield, Pat Benatar and Juice Newton. Joy Burnworth is also the first call sub for Jefferson Starship. Howie Anderson is the lead guitarist for The Strawberry Alarm Clock and he has worked with Spencer Davis, actor Ben Vereen, Robbie Krieger of the The Doors, Peter & Gordon, Lynyrd Skynyrd's Ed King, Jerry Corbetta (Sugarloaf) and drummer Buddy Miles to name but a few.
Joy Burnworth sat down with us recently and talked about her own career, the duo Anderson and where it all started for her.
"I write all of the lyrics and it all starts with me. I start with the lyrics and I usually have some type of a melody, but sometimes I will not have a melody and Howie will start playing things to give me ideas. I take the lyric and the partial melody and I go to his house and we hash it out. We figure out if it is going to be in 3/4 or in 4/4 and figure out the tempos and all of that. He comes up with the harmony and helps me to take the melody in a different route based on what he is playing," says Burnworth.
Take for instance the Anderson song "Aqua Gardens," a mid-tempo song with a nice easygoing melody that plays like a film, as Joy Burnworth's vocals sets the scenes
Hypnotist Kellie Karl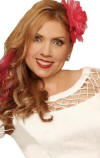 Kellie Karl has performed as a singer and a dancer, but her celebrity for many years now has been attached to her performances as a hypnotist in Las Vegas where she lives, as well as her performances in other parts of North America. It is a career that started when a friend who was the assistant to a hypnotist was moving and asked Kellie Karl if she would like to take over for her.
When asked if she had any preconceived notions about hypnosis, prior to her involvement Kellie Karl replied, "I wasn't suspect. I wasn't the type of person who said, oh that's just not real. I had really never seen a hypnosis show, so I was pretty open-minded about it. When I saw his (the hypnotist that she assisted) show I was very intrigued, because I had always known about the power of the mind. It is something I have always embraced and I had done my own study about it.
Once I really got into hypnosis I realized my aunt taught me hypnosis when I was eight years old. I had been doing progressive relaxation on myself since I was eight. I thought I had this super-duper power. I would tell all of my friends, if you have a headache I can get rid of your headache. I would do progressive relaxation on them and they would not have a headache anymore. It was pretty amazing when I realized that I had actually been doing this my whole life.
This is what I was meant to do for sure. I absolutely believe in the power of the mind. People can help themselves and people can change
Ali Handal

Ali Handal an American singer, songwriter and guitarist living in Los Angeles serves up gritty Rock songs that cut like a knife. She also sings tender, ethereal songs like "Last Lullaby." Handal's songwriting and her playing on acoustic songs such as "Distance," and "Sweet Scene," remind us of John Denver. If you are reading this and thinking she cannot possibly be all those things, we would say to you, yes she can and she really is that gifted and versatile as an artist. If you are looking for a reference point for Ali Handal's music we would suggest you take a big mixing bowl and put in a bit of Joan Jett, some Neil Young, a slice of John Denver and a dash of Ann and Nancy Wilson of Heart.
Ali Handal started life in Amorok, New York, the oldest of three girls. When she was twelve years old, she drove across the country with her father in a station wagon when her family moved to northern California and during that trip she became the temporary guardian of the family fern named Rhoda. Her mother and her sisters flew to their new home in the Bay Area.
"I was excited to move to California and for me it was really fun. I had relatives in San Jose, California which is south of where we went to live, but it was a very positive experience," she says.
Although she had started taking piano lessons when she was four years old she later switched to guitar and Ali Handal talks about that decision, "I heard Led Zeppelin and that is what made me really want to play guitar, because I just thought they were the coolest and I still do. At the time I didn't really appreciate John Paul Jones (the bassist, keyboardist, co-songwriter with Led Zeppelin) the way that I do now, but the guitar
Sweden's Stefan Gunnarsson

Meet Sweden's pinball wizard Stefan Gunnarsson, who has forty-five pinball machines in his personal collection. That would be a fascinating story on its own, but this is not the story of a man who relaxes in the far nothern town of Boden, Sweden, by playing pinball, but instead it is about the musical journey of a man who some might say is a musical genius and who as a childhood protégé was playing with adult aged bands. Stefan Gunnarsson has gained a stellar reputation as a multi-instrumentalist, a composer, a television personality and as a producer.
Stefan Gunnarsson's journey began in the same town he now lives in, Boden, on the coastline of the Baltic Sea and approximately a ten hour drive by car, north of Sweden's largest city Stockholm.
Gunnarsson says, "Boden is a pretty small town way up north. There are about 25,000 or 30,000 people living here. It is pretty close to the Polar circle and it is very cold in the wintertime, with lots of snow. It is also a military town, with a big military tradition. My father was a trumpet player in a military orchestra. It became like an institution and it turned into other things than just a military orchestra. They had a big band and they played a lot of different music (instead of) just military music. As a four, five and six year old I loved sitting during rehearsals with the big band and listening to the music and checking out the drummer. The drums were my first love. I started (playing drums) when I was four or five years old.
The first memories that I have from that time period was of me sitting next to the drums during big band rehearsals and checking out everything that the drummer would do. When the rehearsal ended I would sit at the drum kit trying to emulate everything that I heard them do.
Emy Persiani from Rome

From an early age Italian singer Emy Persiani seemed destined for a career in music. She is the daughter of preeminent composer and pianist Cesare Persiani who also performed with some of Italy's most highly acknowledged artists including conductor, arranger and musician Cinico Angelini, Pippo Barzizza (composer, conductor, arranger and music director), singer and actor Alberto Rabagliati (The Barefoot Contessa, Montecarlo and Il Vedovo, The Christmas That Almost Wasn't – as Santa) and songwriter, musician and band leader Gorni Kramer.
About one of the people her father performed with Emy Persiani says, "You probably know Gorni Kramer (She sings a song in Italian). He is very famous in Italy and I don't know if he is famous in America, but it is a kind of Swing after the Second World War made (famous in Italy) and my father played piano for him.
My father was a very famous pianist and when I was born my house was full of piano notes. My father was the most important figure in my family of course, first for the music and he got a diploma at The Accademia Nazionale di Santa Cecilia, which is a very famous music academy here in Rome and in Italy. He played Classical music, Chopin, Rachmaninoff, Beethoven and Mozart. He was born very early in the 20th century and fifty years before me. That is an important fact, because a lot of the heritage from, I don't if that is the right word him comes to me from the early years of the 20th century. He was a piano player between the two world wars and he was a very famous piano player after the Second World War.
(During) that period there was kind of a mirroring of the music between Italy and America.
Actress Mara New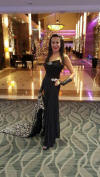 Mara New has accomplished much during her lifetime and in a lot of areas that those of you are reading this may not even know about. You may recognize the name Mara New as a Los Angeles film, stage and television actress or you may know her for the philanthropic work that she has done over the years. Throughout her lifetime she has been a model, was the driving force behind a 2004 fashion show in Los Angeles that highlighted the clothing of emerging, but not yet well-known fashion designers. She was a member of the dance ensemble at the Roger Hazel American Dance and Musical Theater Company in Australia. Mara New is also fluent in Italian, English, French and Spanish. In collaboration with her husband Ron New, Mara produced an album for highly respected Blues and Jazz singer Barbara Morrison, as well as the husband and wife team were the executive producers of a musical about the life of Blues singer Big "Mama" Thornton that was staged at the Stella Adler Theater in Hollywood. In 2004 Ms. New was also the recipient of an award that acknowledged her as being one of the most influential women in the city of Los Angeles.
The pretty and personable Italian actress born Mara Beltrami in Milan, Italy spent some of her teenage years in France and later moved to Australia, before she moved to Canada for five years, during which time she also hosted a radio show. The first two moves were due to her father's work building hospitals. Then the final moved happened, the one to Los Angeles.
Mara New explains, "I went to L.A., because when I was in Canada I was working for the Italian Canadian Club and I went to Hamilton Place where there was a Liberace show. I went to
Lisa Hilton Is Nocturnal

Jazz pianist and composer Lisa Hilton who makes her home in Malibu, California recently released her eighteenth album, titled Nocturnal and this time she combines both Jazz and Classical elements for some of her compositions. She also previously released in Asia, two compilation albums and she has one vinyl. Ms. Hilton debuted her new album at Carnegie Hall in January (2016) and radio stations such as KVNF in Colorado, Virginia's WTJU and WUNH in New Hampshire have given her the thumbs up. Those accolades however are not restricted to America, as they have also flowed in from places such as Australia, Spain and Italy. Lisa Hilton's albums are entirely instrumental, which also helps to create a broader international audience.
"I thought my concert at Carnegie Hall went really well and I felt really good about my band and we performed what was very exciting and different for me. It was my third time at Carnegie Hall.
I was doing "Midnight Sonata," and I had never done a piece of music that is essentially twenty minutes long. Stuff like that is fun and exciting for musicians. We always want to do the hard and complicated, so those things are fun and interesting to us. It was my first time stepping up to that level for a longer piece of music. What was most important to me was how it came through and when I finished playing it I saw someone in the audience do a two thumbs up. That person mouthed the word beautiful.
Afterwards I asked a couple of
Sweden's David Carlson

There are some things that strike you immediately about David Carlson and despite his great talents as a songwriter, singer, guitarist and a poet, all of that takes a back seat to his personal achievements that are of far more importance, becoming sober eleven years ago when he won the battle over alcohol and after many years of being misdiagnosed, he finally obtained the correct medical assistance in the past couple of years and with the aid of the correct medication and hard work on his part he now effectively manages the bipolar part of his nature.
One of the more striking things that you notice about David Carlson when he speaks is the genuine sense of gratitude with which he lives his life. It is never pretense, but it flows as naturally from his lips as his beautiful vocals on songs such as "Till Alla Dom." You hear the warmth and the pride in his voice as he pauses momentarily during our conversation to take a call from his son.
Carlson has worked with some of Sweden's more prominent artists, as a member of the Raj Montana Band with Dan Hylander and Py Backman, a band that garnered four gold abums. He has also performed and / or recorded with Tove Naess, Susanne Alfvengren, Mikael Rickfors and the late Ted Gärdestad. Carlson toured as a member of The Crickets, which at the time included two original members of Buddy Holly's band. Yet despite all of his musical accomplishments over the past four decades, at 56 years of age, David Carlson finds himself closer to a new beginning to his career than merely being someone quietly fading into the past. With a new found energy and a sense of purpose, his recording studio is humming along