Melanie Stace - The Key To Me

Melanie Stace in collaboration with Wayne Brown has created a breathtaking album of beautiful and original songs with the album The Key To Me. The songs range from the tender love letter "Change of Season," to the up-tempo "Waiting Game," a song about waiting for a lost love to call again and the song "The Night Has Just Begun," about a lady of the night.
"Change Of Season," expresses all of those feelings that come to the surface when you finally realize this is the one! This is the person with whom you are in love and how your step has a little more bounce, how you take great delight in the smallest of things that perhaps you didn't notice before. Ms. Stace's phrasing is impeccable and in the lines "You opened up my eyes / To ever sunny skies / Exactly! What I have been missing," she sings exactly with conviction. It is easy to imagine "Change Of Season," as the first dance between and groom at a wedding reception. It is just as easy to imagine two lovers driving down the road in a convertible, with the radio turned up and singing this song together, sharing smiles and knowing looks.
"I wrote this song when I had returned from a long but great seven months working in Seattle with Teatro Zinzanni. It had been raining almost non-stop during the time I was there, and I arrived back at Heathrow (airport in London) to unexpected sunshine. I reflected on what an amazing time I had in Seattle (performing) in the show and what a personal journey I had been on. Having never thought the weather affected me much previously, I thought a lot about how it can have a big influence on practically everything. It's fairly obvious that this song is about being happy to be in love, but it's also about love being the reason for many things including the reason to step out and change things up a little in order to experience

Read More
New Merle Jagger Album Soon

Take a little bit of Merle Travis, a touch of Buck Owens, mix in a Rock guitarist who played on a Berlin ("You Take My Breath Away") record and received an invitation to join the band, was a session player for Moon Martin, The Monkees, Robert Palmer and The Village People (also served as a songwriter) and you have a pretty highly regarded and eclectic guitarist. Los Angeles guitarist Mark Christian who is also a well-respected producer and sound engineer now has people whispering his name respectfully in Country Music circles as his band Merle Jagger causes ears to perk up with their original songs "Hillbilly No. 9," and "Ranch Party," as well as their cover of Earl Scruggs' "Randy Lynn Rag."
Mark Christian explains how the band's name was determined, "The Merle of Merle Jagger is actually Merle Travis. Merle Travis was in behind the calculated science of my band name. Merle Travis was the first Country guitar hero. He wrote "Smoke, Smoke, Smoke That Cigarette," and he wrote "Sixteen Tons." He was the Bruce Springsteen of the 40s. He played a Bigsby tremolo (guitar). He was playing with a thumb pick and he would pick the guitar like a banjo. He played all of the bass lines and the guitar lines together at the same time.
Chet Atkins admitted he got everything from Merle Travis. He basically stole his style. He applied it to what he was doing and then everybody else followed. Pretty much the whole Chet Atkins thumb picking thing was basically started by Merle Travis.
I figured I was a Rock guy trying to play Country. I figured the guitar hero of Merle Travis meets the bad boys of Rock and Roll, The Rolling Stones and I came up with Merle Jagger. There were some runner-up names like, Gringo Star. I also wanted to have a band name like Jethro Tull
Ingrid Bergman My Story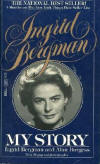 Book Review: Ingrid Bergman My Story

/

Written by: Ingrid Bergman and Alan Burgess

/

Published by: Delacorte Press, 1980

Some of the best books you will read were not written today, or yesterday or even last year, but if you look carefully you will find treasures written many years ago. Such is the case with the book Ingrid Bergman My Story published in 1980. The book is told for the most part through the eyes of the beautiful and talented Swedish born actress Ingrid Bergman and complimented by the sometimes narrative of Alan Burgess or the words of those who worked with and knew Ingrid Bergman personally, including one of her daughters Pia Lindström.

Through Ms. Bergman's eyes and heart we experience her childhood and the tragedies she endured from an early age, as her mother died when Ingrid was three years old and her father passed away when she was twelve. The aunt she then went to live with died in her arms one year later. Ingrid Bergman knew from very early in life that she wanted to be an actress and eventually she auditoned for entrance into the Royal Dramatic Theatre in Stockholm, Sweden. Misreading the body language and intent of the judges, she went to the harbor and contemplated ending her life. Instead, Ingrid Bergman gave audiences in both cinema and live theatres outstanding performances for most of the 20 th century, including the last years of her life, before breast cancer finally took her away from us on August 29, 1982.

Ingrid Bergman does not whitewash her life. This is not a santized story that only makes
Lisa Hilton Talks About Horizons

Malibu, California Jazz pianist and composer Lisa Hilton's current album Horizons is another masterpice by an artist who continues to compose breathtakingly beautiful songs. The recording consists of nine Hilton original compositions, plus Duke Ellington's "Sunset and the Mockingbird," the Black Keys' "Gold On the Ceiling," and Johnny Mercer and Henry Mancini's "Moon River."
The album opens with the spritely "Vapors and Shadows," showcasing Lisa Hilton's exquisite playing with Rudy Royston backing her on drums, while he adds some percussion panache. The album then segues into the head nodding, toe tapping "Nocturnal," and it's time to showcase Sean Jones on trumpet and J.D. Allen on tenor saxophone, while Hilton sets a brisk tempo on the piano. Let's not forget Gregg August.
While taking a sip of her ice water, Hilton says, "On the horns, I try and mix things up. New York Sessions (the album) had a horn and two saxophones and Twilight Blues (another one of her albums) had a horn and a saxophone. I guess I just thought I would try it again. I had told myself at one time that I was never, ever going to do a quintet again, (she whispers as if she is confiding a secret), because it is a lot more work. I wanted to mix it up and to do something different. I know a lot of people prefer horns and you know you are always trying to find the magic secret to create the sound that everybody loves.
On a few pieces (on the album Horizons)

Read More
Asha Puthli In The Studio Again

Pop / Jazz singer Asha Puthli. with some assistance from her friends Ron and Mara New, has been recording songs for a new and yet to be named album. When Ms. Puthli left her homeland India in the 1970's and traveled to America on a dance scholarship, armed with a background in Classical and Opera music, her goal was to bridge the Indian and American cultures and to record and perform the type of music she had listened to on the radio shows Voice of America, hosted by Willis Conover and Radio Ceylon.
"I listened to what was called Radio Ceylon in those days and now it (the country) is called Sri Lanka. I was fascinated by Jazz, because of the similarity of Indian music and Jazz in so many ways, in the sense of the freedom and the improvisation quality and a lot of it used chords (similar to) raga music, which I was studying. It was Jazz, which I was so passionate about, but it only came on for an hour. The other one was the Voice of America. Radio Ceylon taught me Rock and Roll. It had Elvis Presley, Pat Boone and Cliff Richard. Little did I realize that one day I would meet Pat Boone and one day I would do a television show with Cliff Richard. A year and one-half after I left for America Willis Conover, was playing Ornette Coleman's album that I had sung on, so it was like a cycle coming complete.
In Willis Conover's autobiography called Broadcasting To The World he mentions John Coltrane and me as being the first people to bring Indian music to Jazz and mixing
Joanne Tatham Out Of My Dreams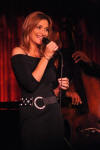 "You Taught My Heart To Sing," the McCoy Tyner and Sammy Cahn song opens Joanne Tatham's new album "Out Of My Dreams," and Tatham's vocals are out of this world. Add to her lush vocals the scintillating piano solo by Tamir Hendelman, the wonderful John Clayton on bass, Peter Erskine on drums and an accompaniment by saxophonist Bob Sheppard and you have an all-star cast. Platinum award winning singer and lyricist Mark Winkler is the producer and the result is a gorgeous collection of songs and an experience that definitely should not be missed by any true lover of Jazz music.
Jamieson Trotter beautifully arranged Harry Nilsson's "Without Him (Without Her)," and Trotter also accompanies Joanne Tatham on piano. As for Ms. Tatham her phrasing is masterful. She makes this song dance and likewise the scenes dance in the listener's imagination.
Mark and I knew each other from being on the same circuit and we would go to see each other's shows. Then one day a couple of years ago he said I would like to produce an album for you. I am no fool, so I said sure, when do we start? We sat down and we started talking about the kind of music that we like and we wanted to do what we like. We really hit it off. We were a good team. There were a number of tunes that I had been doing around town in clubs that I had not yet recorded and I enjoyed and I thought were really a good fit for me."
As for the title of the album it is drawn from the Richard Rodgers and Oscar Hammerstein II song "Out Of My Dreams," the closing
Cherie Currie Interview / Review

If you only have enough money to buy one album this year then buy Cherie Currie's brand new album Reverie. Cherie's vocals have never been better and the song "Inner You," is an absolute musical gift. The album is produced by Jake Hays, Cherie Currie's son and he contributes vocals to many of the songs and takes the lead on "Shades Of Me," another treasure. Reverie is
the best Rock album that Riveting Riffs Magazine has heard in many years.
In the 1970s Cherie Currie was the lead singer of The Runaways, an all-girl teenage group managed by the late Kim Fowley. Although, there is no doubt that Reverie sends a loud and strong message that Cherie Currie is an exceptional solo artist, she collaborated on the songwriting portion of this album with Fowley and Hays and Lita Ford another former member of The Runaways lends her vocals to Currie's new album.
Cherie Currie sat down with Riveting Riffs Magazine to discuss her new album, three days after it was officially released through iTunes.
She says, "It took over a year (for the album to come together) and it happened when Kim Fowley reached out to Blackheart Records to see if there was any paper (legal contract) between myself and them, which I did not have one. He had heard that I had said that I would work with him again, so he reached out to me, knowing that I was a free agent. Working with Kim again was something that I wanted to do. It was a way to bury the past and to start over and that's what we did."
Angela Parrish - New EP Soon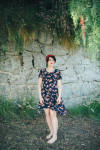 The first thing you notice about Los Angeles based, Kansas born and raised, singer-songwriter-musician Angela Parrish is her vocals. Her vocals to the casual listener sound effortless as she masters Jazz, Americana and lighter Pop songs, but to the trained ear, one realizes right away that this is an artist who has invested a lot of time in honing her craft. The second thing that jumps out at you as you listen to songs such as, "Higher," "The Couple Down The Hall," "Hand Me Down," and "Noon In Denver," is Angela Parrish is a skilled songwriter. In the autumn of 2015 Parrish will be releasing a new EP and she collaborated with producer Jamie Candiloro who has worked with artists such as Courtney Love and R.E.M. and who regularly composes and produces for television and film.
Life began for Angela Parrish in the small town of Newton, Kansas and she has one sibbling, a younger sister Abbey.
She says, "Newton is a small town and it has a small town feel and I like everything about that.
I come from a family of music appreciators. They participated in choirs or lessons growing up, but I am the only professional musician in my family. I am the only one in my family, who went into it, but everyone in my family is supportive and they have a strong appreciation for music.
My parents had me late in life. They were in their mid-forties when I was born and the music of their generation was always playing. There was Carole King and a lot of James Taylor, hits from the sixties, Rock from the seventies,