Christine Flowers, Jazz & Mini Ninjas

Take a white American girl who grew up in North Carolina and Georgia, and who attended the first integrated school in the state of Georgia, where many of her fellow students were the children of civil rights activists, mix that with listening to a healthy dose of Martin Luther King Jr. and Ralph Abernathy on Sunday mornings and she has now lived in Paris, France for most of her adult life and what do you get? You get a terrific Jazz singer named Christine Flowers, who is also a voice actress, and recently launched her own YouTube channel featuring weekly ten minute restorative and therapeutic yoga sessions. You also get a woman who knows who she is, has strong convictions concerning human rights and who appears to be very comfortable in her own skin.
Looking back Christine Flowers describes herself as, "I really am an artist and I was a failure at academics. I was so flighty and I was so daydreamy about other things, music and poetry and all of that stuff. I didn't (care) about anything else. I was just allergic to that stuff. The funny thing is when I finally got out of high school and had I not graduated out of a performing arts high school (she pauses) all of my credits were because I was a singer, an actress and a dancer or I don't think that I would have graduated.
There were a few years that went by that all I did was act and sing. Then I decided to go back to university. I realized that I was quite good at studying and academics. It was a choice and I even got really interested in physics and astronomy. I found out I was really, really good at that, but the only thing was, I wasn't good at math. I got my head around the theory about it, but I couldn't go ahead in that discipline, because
Jenny Jones - Blondies Recipe

Jenny Jones hosted her own nationally syndicated talk show but that was just one of many jobs that Jenny has held, including waitress, bookkeeper, author, comedian, musician, singer, songwriter, caterer and chef.
Jenny Jones Easy One Bowl Blondies
You only need 3 tablespoons of butter for these yummy, chewy bars. Toasting the pecans makes a huge difference in taste and there's almost no cleanup if you line your pan with foil. Do not overmix or overbake. - Jenny Jones
Prep Time: 12 minutes
Cook Time: 18 minutes
Total Time: 30 minutes
Makes: 16 servings
Ingredients:
3 Tablespoons butter, melted & cooled
1/4 cup vegetable oil
1/2 cup brown sugar
1 egg
1 1/2 teaspoons vanilla
Nilla Nielsen Releases New Album
Singer, songwriter, musician and suspense novelist Nilla Nielsen may be the best kept secret outside of Sweden or at least to North American music fans. The very congenial Swede has just released a brand new album Good Day and it opens with a fabulous the fabulous title song. It starts out slowly, before hitting stride as a mid-tempo song and Nielsen's vocals are backed by strong musicians, Bengt Johnson on drums, Niklas Ekelund (electric and acoustic guitar, mandolin), Erik Urban on bass, Tomas Pettersson on Hammond organ and Nilla Nielsen also plays harmonica.
Nielsen describes "Destination Unknown," in this way, "It is about a true adventure. I was traveling around in Sweden with my best girlfriend at the time and we met so many wonderful people. When I sing this line about, "Angels in worn out shoes," it was a homeless person that we met on the street and it just moved us. We had a very special connection. The song is about us traveling around, all of the meetings, how open the feeling was, how open the world was and how it felt. We were never alone. It doesn't matter where you are, (because) it is about who you are there with."
Most of the songs on the album were both mixed and mastered by Nilla Nielsen, with the exception of a couple of them that are from older recordings, but she mastered those ones as well in her own studio. Good Day, the album, showcases Nielsen's ability to easily transcend genre boundaries.
"It (the album) is put together from different sessions in different places
Scott Tarulli New Album in the Works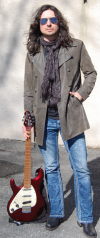 When a big name performer utilizes quality musicians to accompany their performances the contributions of their sidemen and women can sometimes get overlooked when the glare of the spotlight is on the featured performer. There is also however, another train of thought and that is smart and talented artists surround themselves with people who make them look good and often give them a lot of space, so their talents can be showcased as well. Scott Tarulli falls into the latter category and he has recorded with and / or shared the stage with the likes of, Jerry Marotta, Tony Levin, Mark Egan, Ira Coleman, Nile Rodgers, Steve Gadd, Abe Laboriel, The Temptations, Bernard Purdie, Chuck Rainey, Peter Eldridge and Guthrie Govan.
Scott Tarulli has also released three solo albums, Transitions in 2002, September in Boston Live in 2004 and the 2012 release of Anytime, Anywhere. There is also a fourth album in the works for 2017.
In addition, to being a very good guitarist and composer, Scott Tarulli teaches at Berklee College of Music in Boston.
Scott Tarulli's story begins in Medina, Ohio where his family lived until Tarulli was ten years old. At that point they moved to Boston and he has lived in the Boston area ever since.
"My dad's side (of the family) was very artistic, although nobody actually entered the arts. My mom's side was very musical. She
Celeste Yarnall & Nazim Nazim

What happens when art meets the clothing design world? Well in the case of Nazim Nazim (first name and last name the same) and Celeste Yarnall, actress turned entrepreneur the result is wearable art in the form of the Art of Wellness collection and the Celeste Yarnall Curated Wearable Art Collection.
"Almost from the moment that I met Nazim and fell in love with his art and as our relationship progressed and we fell in love with each other, I kept thinking how magnificent his paintings would be if we could translate them to scarves, kimono style sheer wraps and especially jewelry. You know what they say, be careful what you wish for, because if you envision it, it is going to happen. The opportunity to do this kind of design work together just fell out of the heavens. I am thrilled that my dream has come to fruition," says Celeste Yarnall.
Her husband and partner in this enterprise, Nazim Nazim contributes, "As to the inspiration behind the designs, like Celeste said it is very much based on a vision that she had and the fact that she could see in my work the potential to create a unique fashion style and fashion sense. It was very much born out of our collaborative view of the world."
Celeste joins in, "As an actress I always had the ability to see what the camera sees. I have the ability to see how people see me and I can see how I see them. When I look at one of Nazim's paintings and sometimes they come from an idea that I've had, I might say darling what about this? He will immediately get his sketch pad and he will create something and I will say wow that is exactly what I had in my head. There is often a

Read More
Barbara Dennerlein - DVD / CD

Barbara Dennerlein one of the world's most highly regarded organists and Jazz composers just released a brand new CD and DVD, My Moments, recorded live at Studio Acusticum in the northern Swedish town of Piteá. The original Jazz compositions are played on both the Hammond organ, for which she is more widely known and the pipe organ. The very congenial Dennerlein who has become a good friend of Riveting Riffs Magazine over the years spoke to us from her home in Germany and referred to this CD / DVD as her most personal recording so far.
She explains why, "It is so pure. It is a solo situation. I am alone with both instruments. It is so personal. I think my personal style has developed over many, many years and it is very special. When you have a solo situation you can hear it more clearly. Also you can hear the little things. Very often when you have a drummer with you no matter how good he is it is always covering details from the organ sound. I do so many little things, because I love the sound and I love the colors that you can make and little changes. I like to experiment with sound and I can do this alone with my instruments. That is why I think it is my most personal one.
(Also), there is nobody else that you can hide behind. You have your own inspiration. I play the pedals very intensely, I have a whole band in a way, as I play with my feet the bass player's work and I have both of my hands for comping and soloing. It gives me a lot of freedom and my style, which is very different from other organists, can be heard very clearly on the solo performance. It is wonderful and I just can let it go and it flows.
Katie Garibaldi and Rooted Clarity

California singer, songwriter and musician Katie Garibaldi is not a rocker, not a twanger and nor is she a jazzer. Her pretty and ethereal vocals and her relatable songs are self-described as being gentle Americana or orchestral Americana. Certainly the gentle Americana description is appropriate for the five songs from her new EP Rooted Clarity. Nathan Lowry's beautiful violin and cellist Emily Nelson give a fuller sound to "Bird In A Cage," and help to create a breathtaking beauty that compliments Garibaldi's vocals.
"I have heard that a lot of artists sometimes think that louder is better and I don't fit into that belief. I think the way my voice is naturally and pairing it with the string players and the orchestral sound is what comes with that description. The gentle and ethereal (description of my music) comes from my voice and how it is naturally soft.
Americana to me is music from the heart, it is storytelling and it is truth from your heart. It is all about showcasing the lyrics and the emotion behind the lyrics. It is always most important just to get the story across," says Katie Garibaldi.
The other common theme throughout the music of Katie Garibaldi is that of love. It is evidenced on several of her albums in songs such as the upbeat and fun, "Lock the Door, Lose the Key," and "Always Kiss Me Goodnight," both from the Follow Your Heart album, "Hey, Hey Darlin'," "Love Without Chains," "and "Falling For You," (all from Next Ride Out), and her single "Baby We're In Love."
"I think I am a romantic at heart. I
Anna Danes Has Found Her Wings

Imagine if you will for a moment living in three different countries by the time you are eleven years old and having to escape the first one under the guise of a vacation. Then you achieve scholastic excellence in your new found home, begin a promising career as an attorney, give it all up for love and move to a fourth country. As a single parent you think you are giving your child a gift by providing her with singing lessons, she stubbornly refuses to take part in them and then magic, at the suggestion of the vocal coach you take the rest of the lessons and you launch a career as a Jazz singer, topped off by recording your most recent album in the very same studio where Frank Sinatra once recorded. It sounds a little farfetched I know, except all of this really happened and it could not possibly have happened to a more deserving person than the warm and gracious Jazz singer Anna Danes, who now makes her home in San Diego, California. This is only part of Anna Danes' story, read further and you will discover a courageous lady who is always looking forward, who does not dwell on the disappointments of the past and who just released her second album.
Anna Danes' story begins in Gdansk, Poland, "Life (in Poland) was certainly very, very different than it is here, especially on the economic side of things and with personal freedoms, because there were none. It was the time of the communist regime in Poland and so things were scarce and you had to fight to survive every day. You couldn't leave the country, unless the government gave you permission to leave the country. You couldn't speak your mind and if you could speak your mind it could backfire and it would affect your career, your family and life sometimes. It was living in

Read More