WW Club Dancing In My Dreams

The last time that we spoke to Amanda Walther she was on the verge of a huge musical breakthrough as one-half of the Rootsy duo Dala. Along with her musical partner Sheila Carabine, Walther embarked on several years of touring more than 200 days per year primarily in America and Canada, with some additional concert dates in the U.K.
Fast forward to 2015 and Amanda Walther says, "I am a new mom. I am a year in and I love it. It is wonderful. I wasn't a mother when we started this album (More Better by WW Club, pronounced as Double W Club), but I am now. It is quite fitting and it has been helpful."
The children's album opens with a song that takes its title from the group's name WW Club, a gentle rap / R&B blend that gets your toes tapping, your hips moving and your head nodding to the beats and grooves. The message is simple to love, "love like your mom makes, love like syrup on pancakes," and "we don't exclude, we just love," and the harmonies on the chorus are beyond smooth, while inviting you to sing along with them, whether you are a child or an adult. The liner notes do not tell us whether it is Tim or Mike Walther leading the rap, but whoever it is does a good job.
Then there is the Pop song "Dancing In My Dreams," oh yes!! With Amanda Walther singing lead vocals, sign this lady up – wait she is already signed. She is joined by Mel, Tim and Mike Walther. Yes More Better is a family affair. This is an upbeat, beautiful little song that made this writer wonder if there is a children's Top Forty, because if there is, this one would rank at the top of the charts.
When and how was the album More Better created? A better question might be where were
New Merle Jagger Album Soon

Take a little bit of Merle Travis, a touch of Buck Owens, mix in a Rock guitarist who played on a Berlin ("You Take My Breath Away") record and received an invitation to join the band, was a session player for Moon Martin, The Monkees, Robert Palmer and The Village People (also served as a songwriter) and you have a pretty highly regarded and eclectic guitarist. Los Angeles guitarist Mark Christian who is also a well-respected producer and sound engineer now has people whispering his name respectfully in Country Music circles as his band Merle Jagger causes ears to perk up with their original songs "Hillbilly No. 9," and "Ranch Party," as well as their cover of Earl Scruggs' "Randy Lynn Rag."
Mark Christian explains how the band's name was determined, "The Merle of Merle Jagger is actually Merle Travis. Merle Travis was in behind the calculated science of my band name. Merle Travis was the first Country guitar hero. He wrote "Smoke, Smoke, Smoke That Cigarette," and he wrote "Sixteen Tons." He was the Bruce Springsteen of the 40s. He played a Bigsby tremolo (guitar). He was playing with a thumb pick and he would pick the guitar like a banjo. He played all of the bass lines and the guitar lines together at the same time.
Chet Atkins admitted he got everything from Merle Travis. He basically stole his style. He applied it to what he was doing and then everybody else followed. Pretty much the whole Chet Atkins thumb picking thing was basically started by Merle Travis.
I figured I was a Rock guy trying to play Country. I figured the guitar hero of Merle Travis meets the bad boys of Rock and Roll, The Rolling Stones and I came up with Merle Jagger. There were some runner-up names like, Gringo Star. I also wanted to have a band name like Jethro Tull
Ada Rovatti's Disguise

Italian / American saxophonist Ada Rovatti is a renowned saxophonist, composer and arranger and her current album Disguise also serves as a testament to her versatility in all of those areas, as eight of the ten songs are original compositions and there is a re-arranged interpretation of Charlie Chaplin's "Smile," and a funky version of Led Zeppelin's "Stairway To Heaven," with guests Adam Rogers (guitar) and Randy Brecker (trumpet).
As she did with Harold Arlen's "Somewhere Over The Rainbow," on her previous solo album The Green Factor, Ada Rovatti created a new arrangement for another classic song "Smile."
She says, "The melody is gorgeous and the lyrics are amazing. It is kind of interesting that the title is "Smile," but there is really nothing to smile about it. He's totally sad. It is one of those melodies that every time I hear it, it gives me goosebumps. It was one tune that I always thought was beautiful and I always wanted to do it. Here again I didn't wanted to use the Classical chords, the original chords and I just heard the little darkness, because the title is "Smile," but the words and the lyrics are so sad. I wanted to add a little extra on the chords. I wanted a little darker chord progression."
As for the Led Zeppelin tune, "People never expect "Stairway To Heaven." "Usually, when I play live I say the title (for other songs), but when I (introduce) "Stairyway To Heaven," I say, we will play a tune that you have probably heard a few times before and let's see if you can recognize it. As soon as Randy (Brecker) and I do our intro, you can see big smiles on almost everybody's faces, like I got it. (We joke that now she is a Rock star and she adds) too bad I don't make that money (she laughs)."
Interview with Corey Allen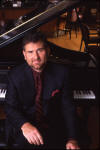 It is probably far easier to ask what Corey Allen has not accomplished in his career than to ask what he has accomplished, but then that would be a negative way to approach this brilliant arranger, composer, producer, conductor (orchestras worldwide) and multi-instrumentalist's career. That said, he also established the curiculumn for Escuela Internacional de Musica Contemporaneá y Artes in the Dominican Republic where he now lives and teaches. It is a long way from Portland, Maine where he was born and grew up in a family of five and even further removed from the Berklee College of Music where he was first a student and later a member of the faculty.
Corey Allen's music has appeared in feature films such as Just Cause starring Sean Connery and Laurence Fishburne, as well as television programs such as, The Tonight Show with Jay Leno, Late Show with Joan Rivers and Eye On Hollywood. In addition he was awarded the LA Drama Critics Circle award for Outstanding Musical Director for his work with the live theater production of Nightclub Confidential.
Talking to us before he headed into a recording session, as the producer, Allen joked that his musical career "pretty well started out of the womb."
He says, "I can remember my mother gave me my first piano lessons, when I was a kid. She taught me the fundamentals early on. I remember tracing the notes and not being too interested in practising the piano, but tracing the staff and the
Lisa Hilton Talks About Horizons

Malibu, California Jazz pianist and composer Lisa Hilton's current album Horizons is another masterpice by an artist who continues to compose breathtakingly beautiful songs. The recording consists of nine Hilton original compositions, plus Duke Ellington's "Sunset and the Mockingbird," the Black Keys' "Gold On the Ceiling," and Johnny Mercer and Henry Mancini's "Moon River."
The album opens with the spritely "Vapors and Shadows," showcasing Lisa Hilton's exquisite playing with Rudy Royston backing her on drums, while he adds some percussion panache. The album then segues into the head nodding, toe tapping "Nocturnal," and it's time to showcase Sean Jones on trumpet and J.D. Allen on tenor saxophone, while Hilton sets a brisk tempo on the piano. Let's not forget Gregg August.
While taking a sip of her ice water, Hilton says, "On the horns, I try and mix things up. New York Sessions (the album) had a horn and two saxophones and Twilight Blues (another one of her albums) had a horn and a saxophone. I guess I just thought I would try it again. I had told myself at one time that I was never, ever going to do a quintet again, (she whispers as if she is confiding a secret), because it is a lot more work. I wanted to mix it up and to do something different. I know a lot of people prefer horns and you know you are always trying to find the magic secret to create the sound that everybody loves.
On a few pieces (on the album Horizons)

Read More
Melanie Stace - The Key To Me

Melanie Stace in collaboration with Wayne Brown has created a breathtaking album of beautiful and original songs with the album The Key To Me. The songs range from the tender love letter "Change of Season," to the up-tempo "Waiting Game," a song about waiting for a lost love to call again and the song "The Night Has Just Begun," about a lady of the night.
"Change Of Season," expresses all of those feelings that come to the surface when you finally realize this is the one! This is the person with whom you are in love and how your step has a little more bounce, how you take great delight in the smallest of things that perhaps you didn't notice before. Ms. Stace's phrasing is impeccable and in the lines "You opened up my eyes / To ever sunny skies / Exactly! What I have been missing," she sings exactly with conviction. It is easy to imagine "Change Of Season," as the first dance between and groom at a wedding reception. It is just as easy to imagine two lovers driving down the road in a convertible, with the radio turned up and singing this song together, sharing smiles and knowing looks.
"I wrote this song when I had returned from a long but great seven months working in Seattle with Teatro Zinzanni. It had been raining almost non-stop during the time I was there, and I arrived back at Heathrow (airport in London) to unexpected sunshine. I reflected on what an amazing time I had in Seattle (performing) in the show and what a personal journey I had been on. Having never thought the weather affected me much previously, I thought a lot about how it can have a big influence on practically everything. It's fairly obvious that this song is about being happy to be in love, but it's also about love being the reason for

Read More
Cherie Currie Interview / Review

If you only have enough money to buy one album this year then buy Cherie Currie's brand new album Reverie. Cherie's vocals have never been better and the song "Inner You," is an absolute musical gift. The album is produced by Jake Hays, Cherie Currie's son and he contributes vocals to many of the songs and takes the lead on "Shades Of Me," another treasure. Reverie is
the best Rock album that Riveting Riffs Magazine has heard in many years.
In the 1970s Cherie Currie was the lead singer of The Runaways, an all-girl teenage group managed by the late Kim Fowley. Although, there is no doubt that Reverie sends a loud and strong message that Cherie Currie is an exceptional solo artist, she collaborated on the songwriting portion of this album with Fowley and Hays and Lita Ford another former member of The Runaways lends her vocals to Currie's new album.
Cherie Currie sat down with Riveting Riffs Magazine to discuss her new album, three days after it was officially released through iTunes.
She says, "It took over a year (for the album to come together) and it happened when Kim Fowley reached out to Blackheart Records to see if there was any paper (legal contract) between myself and them, which I did not have one. He had heard that I had said that I would work with him again, so he reached out to me, knowing that I was a free agent. Working with Kim again was something that I wanted to do. It was a way to bury the past and to start over and that's what we did."
Angela Parrish - New EP Soon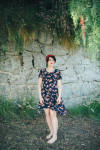 The first thing you notice about Los Angeles based, Kansas born and raised, singer-songwriter-musician Angela Parrish is her vocals. Her vocals to the casual listener sound effortless as she masters Jazz, Americana and lighter Pop songs, but to the trained ear, one realizes right away that this is an artist who has invested a lot of time in honing her craft. The second thing that jumps out at you as you listen to songs such as, "Higher," "The Couple Down The Hall," "Hand Me Down," and "Noon In Denver," is Angela Parrish is a skilled songwriter. In the autumn of 2015 Parrish will be releasing a new EP and she collaborated with producer Jamie Candiloro who has worked with artists such as Courtney Love and R.E.M. and who regularly composes and produces for television and film.
Life began for Angela Parrish in the small town of Newton, Kansas and she has one sibbling, a younger sister Abbey.
She says, "Newton is a small town and it has a small town feel and I like everything about that.
I come from a family of music appreciators. They participated in choirs or lessons growing up, but I am the only professional musician in my family. I am the only one in my family, who went into it, but everyone in my family is supportive and they have a strong appreciation for music.
My parents had me late in life. They were in their mid-forties when I was born and the music of their generation was always playing. There was Carole King and a lot of James Taylor, hits from the sixties, Rock from the seventies,