Anna Danes Has Found Her Wings

Imagine if you will for a moment living in three different countries by the time you are eleven years old and having to escape the first one under the guise of a vacation. Then you achieve scholastic excellence in your new found home, begin a promising career as an attorney, give it all up for love and move to a fourth country. As a single parent you think you are giving your child a gift by providing her with singing lessons, she stubbornly refuses to take part in them and then magic, at the suggestion of the vocal coach you take the rest of the lessons and you launch a career as a Jazz singer, topped off by recording your most recent album in the very same studio where Frank Sinatra once recorded. It sounds a little farfetched I know, except all of this really happened and it could not possibly have happened to a more deserving person than the warm and gracious Jazz singer Anna Danes, who now makes her home in San Diego, California. This is only part of Anna Danes' story, read further and you will discover a courageous lady who is always looking forward, who does not dwell on the disappointments of the past and who just released her second album.
Anna Danes' story begins in Gdansk, Poland, "Life (in Poland) was certainly very, very different than it is here, especially on the economic side of things and with personal freedoms, because there were none. It was the time of the communist regime in Poland and so things were scarce and you had to fight to survive every day. You couldn't leave the country, unless the government gave you permission to leave the country. You couldn't speak your mind and if you could speak your mind it could backfire and it would affect your career, your family and life sometimes. It was living in hiding in a way. It could put great limitations on your

Read More
Jenny Jones - Christmas Recipe

Jenny Jones hosted her own nationally syndicated talk show but that was just one of many jobs that Jenny has held, including waitress, bookkeeper, author, comedian, musician, singer, songwriter, caterer and chef.
Christmas Pecan Balls (Snowballs)
They look so fancy and taste like heaven. Pecan balls make a beautiful Christmas gift and people will think you're a gourmet baker but these are surprisingly easy to make. Pecans can be finely chopped or coarsely ground in a food processor and toasting them first makes all the difference. I could not find a way to make these with less butter, I tried! Be prepared: everyone will ask for the recipe! - Jenny Jones
Prep Time: 1 hour
Cook Time: 15 minutes
Total Time: 1 hour, 45 minutes
Makes: about 2 dozen
Ingredients:
1 cup all purpose flour
1 stick butter (1/2 cup/113 g), softened
1 cup finely chopped toasted pecans (or coarsely ground)
3 Tablespoons granulated sugar
Kelita - Christmas Album

Kelita Haverland's Christmas album Heavenly Night has been out for a few years now, but the nice thing about albums like this is each time December rolls around they take on a new life. This Christmas also served as an opportunity for Kelita (she is easily recognized by music fans by just her first name) and this writer to sit down and do an interview, something that we have attempted to do several times over the years and busy schedules for one or the other or both of us simply got in the way.
The Juno Awards are Canada's top music award and Kelita has been nominated five different times for an award. She is recognized as an impactful, inspirational speaker who does not try to charm you or sell you some magic potion that will cure all life's ills and nor does she try to tell you that if you do everything a certain way that you will never have a problem again. She just tells you how it is, through her music and through her speaking. She has experienced more tragic events than most and yet if you did not know her story you would never guess that was the case. When we first became aware of Kelita, about sixteen years ago she brought to life several funny characters she had created over the years. Since that time she has also been featured as a keynote speaker for TED X. She would also tell you that the most important thing you can know about her is that her faith in God informs the way that she lives her life and the decisions that she makes.
Kelita talks about how Heavenly Night came to be, "I saw a program on television that was on the sex trafficking of little girls in Cambodia and I was so impacted by what I saw that I ended up writing a song, "Not Just This Christmas," that is on the Christmas CD and I ended up performing it on TV. I met the producer of the segment
Gypsy Soul - 20 Years of Great Music

Gypsy Soul, the husband and wife duo of Roman Morykit and Cilette Swan, augmented by an assortment of musicians, just announced the North American release of their new album, simply titled True. It is their thirteenth recording and the songwriting, instrumentals, vocals and production capture the essence of this superbly talented and equally congenial twosome. There are no weak links with this collection of eleven songs.
When asked to reflect upon the fact that Gypsy Soul has established a musical legacy that has endured for almost twenty years, Roman Morykit says, "It is interesting, because I have never even given it a lot of thought. It is just one of the things that we do, it is like breathing. It's like it is time for another record, we have enough material. It is part of who we are and what we do. It is only when people like yourself who are friends and fans point out that we have made thirteen albums that we realize we have had a career of (almost) twenty years as Gypsy Soul. It will be twenty years next year.
Back to Cilette's earlier point, it is short and time flies by and all of a sudden you are on number thirteen. It is astonishing to us actually that we have managed to keep doing this for this long."
For the Oregon couple, the story of Gypsy Soul begins twenty-seven years ago in Edinburgh, Scotland.
"That would make us twenty-nine now," says Roman.
"I know we met as toddlers right," chimes in Cilette, before recalling how they met, "I was in a band with Roman's brother and that is
Benjamin Franklin V

Recently, The University of South Carolina Press published a book authored by Benjamin Franklin V titled An Encyclopedia Of South Carolina Jazz & Blues Musicians and it would make a great addition as a required or recommended supplementary text book for many music courses. The use of the word musician may cause our readers to immediately jump to the conclusion that this book only concerns those who play an instrument and that is not true. The term musician is used in the broader sense here to also include singers and some who composed music.
The author also took time during a recent conversation with Riveting Riffs Magazine to talk about the music that is covered in this very well presented book, "The South Carolina contribution to Jazz and Blues has been rich. I am dazzled by many of the musicians who came out of this small state.
Jazz is pretty well understood, although difficult to define, but Blues over time has expanded to include Doo Wop, Rhythm and Blues, Soul and maybe even other things, but those are the three for sure. I include them and I also say that a line has to be drawn somewhere and I drew that at Gospel music.
There will be Soul singers like Nick Ashford, of the group from the seventies Ashford & Simpson. Nick Ashford is from South Carolina and there is a really nice picture of him in there. I don't think many people would consider them to be
Swedish Drummer Rasmus Kihlberg

Earlier this year Swedish drummer Rasmus Kihlberg who has played and / or recorded with artists such as Tom Jones, Charlotte Church, Bill Champlin, The Cardigans, Björn Skifs, Japanese singer and actress Tomoyo Harada and Joseph Williams of Toto, had a very busy tour schedule.
Talking about this year's tour Rasmus Kihlberg says, "I played with Nils Landgren. He is a Swedish trombone player and singer and with my wife Viktoria Tolstoy who is a singer. (There was also) a piano player, a bass player and the Frankfurt Philharmonic Orchestra, but not the strings, only the woodwinds and the horn players. The arrangements for that tour were made by Vince Mendoza and we played only Leonard Bernstein music, all the famous hits and also the non-famous. It was a fantastic tour and we had thirteen or fourteen concerts in a month and only in Germany. There was a full house in every place and standing ovations. Nils and Viktoria sang this music so well. Sometimes they would sing duets, sometimes she would sing one song and (other times) he would sing one. Sitting in the middle of this orchestra with my drums was also a dream come true, because I love all of the things that come from Vince's pencil (and that has been) since the first time I heard Vince's arrangement of Joni Mitchell's Both Sides Now (the album). It has been a huge experience and also a fantastic tour to be able to play enormously beautiful arrangements. It was fantastic."
That tour came on the heels of a very ambitious tour schedule for Kihlberg's wife, the accomplished and highly respected singer, Viktoria Tolstoy, whose own tour embraced several months in the fall of 2015 and the early part of 2016, with breaks to return home to be with her family.

Read More
Cindy Alexander and Deep Waters

Earlier this year Cindy Alexander released her album Deep Waters, a collaborative effort with Colin Devlin of The Devlins. It is Cindy Alexander's best album yet. It is a collection of songs that are original tunes, with two exceptions a cover of "Heaven's Wall," by The Devlins and Jann Arden's "Good Mother."
The new album opens with Cindy Alexander covering "Heaven's Wall," a 1990s song by the Irish band The Devlins, from their 1997 album Waiting. She has always had a good voice, but this song fits very well with Alexander's vocals and her phrasing is excellent. As the song builds to a crescendo at the 2:30 mark Cindy Alexander's connection with this song is evident as she repeats the chorus "Come on, take my hand, we'll rise above it all / Then we can meet as planned outside of heaven's wall."
"When I was going through Colin's material, before we were going to start writing together, I was listening to his music and I came across this song. It is a Devlin's song from the '90s and it hooked me. I loved the groove and I loved that the beat was relentless, but there was this slow and steady build. It kept going through my head and it was an earworm. When it came time to put the songs together I thought it would be nice to cover one of his songs. I love the guitar solo by Colin," says Alexander.
The album Deep Waters was difficult for us to get through the first time and only because each of the songs is so well presented that the tendency is just to keep replaying them, before finally
Time Sailors of Pizzolungo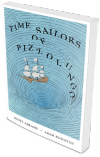 In a world where children have video games, high definition televisions to watch their favorite programs and parents take them to the cinema to watch the latest and greatest movies; it takes a special parent to give a child the gift of a book. Scott Abrams and Adam Blockton are the co-authors of a remarkable children's book, Time Sailors of Pizzolungo. It is a timeless and classic adventure book that will entertain children and adults alike. More importantly this beautiful book stimulates the imagination in a warm, positive fashion in a world in which our children need to hear a message of hope and dream dreams of what someday might be and that they might become. Join Guillermo, Piccolo, Enzo, Mario, Luca and Tony as they sail the high seas and create magic five centuries before any of these children were born.
Scott Abrams sat down with Riveting Riffs Magazine recently to discuss this children's adventure novel.
"I never set out to write a book, much less a children's book and the idea came to me in an unexpected way. Years ago I was in Sicily near Pizzolungo. We were sitting at a villa poolside and it happened to be my birthday when a friend of mine gave me a small little boat as a birthday gift. I am not sure why. The boat package said that it grows in the water. Naturally we plunked it into the pool and we sat around waiting for it to grow, but strangely it didn't grow. We said maybe it needs some time to grow and we checked it the next day and we couldn't find the boat. We searched the same pool and it was completely gone.

Read More