David Forlano Renaissance Man

When you look up the term renaissance man, which we did from many different sources, you find explanations like these, "a person with many talents and areas of knowledge," …someone with a variety of skills and a broad base of knowledge," and "a man who has broad intellectual interests and is accomplished in areas of both the arts and the sciences." All of those definitions and similar ones such as polymath draw their inspiration from people such as Leonardo da Vinci, Michelangelo and Francis Bacon. They serve as an apt description for Santa Fe, New Mexico jewelry designer, artist, web series co-producer (Cyphers) and musician David Forlano.
Forlano has for many years collaborated with longtime friend and business partner Steve Ford of Philadelphia, to build a very successful jewelry business based on their original designs, which are displayed in upscale craft galleries throughout America, such as de Novo, in Palo Alto, California, Velvet da Vinci in San Francisco and Santa Fe's Patina Gallery. Their jewelry, as well as David Forlano's paintings have also been exhibited at the New Mexico Museum of Fine Art.
In an earlier interview with Riveting Riffs Magazine, David Forlano said that the art jewelry that they create from polymer clay (and often using sterling silver) is properly defined as couture, as it very unique to them and each piece is different. "Our challenge is to stay on top of the game and to keep inventing. We have a certain look and when people see us they know us by name, just as it is with famous dress designers. People, who know that world, will look at a dress and they will know the designer. That is where we stand, in the American craft jewelry world."
New York City's Andrea Wolper

Andrea Wolper, a New York City Jazz singer, composer, lyricist and arranger is and has been many things throughout her lifetime. She authored the book The Actor's City Sourcebook and co-authored Women's Rights, Human Rights: International Feminist Perspectives, with Julie S. Peters. As you may have correctly concluded from the title of the first book, she has been an actress, as well as a poet and an activist. When it comes to Ms. Wolper's music she reminds one of a painter, using her lyrics as a palette and her vocals as brushstrokes that take the listener on a magical and vivid journey through a collection of original songs and tunes that she has covered.
She says, "I think it is one of the dilemmas for some people and maybe not for everybody, but for some people who make what is supposed to be considered a work of art, whether it is a dance or a painting or a song, is we feel it one way, we express it one way and we hear it, but we can't really know how it is going to land on anybody else. The idea of paintings is intriguing to me, because I think as a singer and it applies to musicians of any kind, but I think when you are talking about singers working with lyrics, then it is aplified. It really is a story no matter what you are doing. I have some songs in my repertoire without any lyrics and I also do some free improvising, but there is always a story being communicated, whether we know what it is or not. When there is a lyric, we might be more consciously connected to what that story is, because words communicate so directly. A painting is the painter's communication of thought and feeling. That is what it all comes down to. What I want to do when I'm singing is to sing well and I am always working to try to become a better singer and a better musician. At the same time, it is really important to me to try and express feelings through a song. The more skill that I
Beverly Bremers Interview

Although Beverly Bremers is best remembered for her hit song, "Don't Say You Don't Remember," which cracked the top twenty on a couple of Billboard charts, in 1971 and then again in 1972, Bremers had already made a name for herself as an actress in the Broadway musical Hair. In 1964 at fourteen years of age, Beverly Bremers had also signed her first recording contract with Pickwick International (parent company of Pickwick Records).
Bremers talks about her time at Pickwick, "I was working with a guy named Terry Philips and I didn't find out until recently that he was famous in his own right. He was part of a trio of writers, the most famous one being Lou Reed (Lou Reed was at Pickwick International from September 1964 until February 1965. It was during this time that Reed formed the band The Primitives with John Cale.) and another guy named Jerry Vance. They wrote a lot of songs, as well as produced a lot of cover records for Pickwick. Someone asked me a few years ago if Lou Reed played on my session and I said I have no idea (Reed played on numerous sessions at Pickwick, during the time Beverly Bremers was signed to the label, but he was not credited). I was very grateful to him, because Lou Reed and Jerry Vance wrote this song called "We Got Trouble," and the B side was a remake of "The Great Pretender." That was the beginning of my recording career and my studio experience. I learned how to sing properly and he (Philips) sent me to a singing teacher at Carnegie Hall."
When this writer suggested that fourteen years old is pretty young to release your first record, Beverly Bremers replies, "Yes it is. We lived in the suburbs of New York and there were a lot of people who lived in Westchester
Michael-Ann Azoulai Interview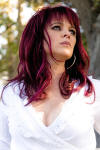 The last few months have been busy ones for Los Angeles based singer-songwriter and musician Michael-Ann Azoulai, with gigs that saw her opening for Country music legend Mark Chestnut and also opening for iconic balladeer Don McLean ("American Pie," and "Vincent"). By this time in her life, Michael-Ann Azoulai should be used to busy, as her life has been an adventure, so it seems, almost from birth. She was born in White Plains, New York, as a young child, moved with her family to Ridgefield, Connecticut and then she completed the later grades of elementary school in Kansas City, prior to moving to Israel for a year, as an adult, getting married, moving to Nashville, getting divorced, finding time to have two children along the way and eventually settling with her children in Los Angeles. As we write this, Azoulai has completed her album Heavy Load and on January 22 (2013) she will be officially launching the album with a concert at El Cid on Sunset Boulevard in Los Angeles.
About her new album she says, "It has been a process and I won't go into detail. There have been several attempts to make a record and for various reasons they failed (she laughs). It has been several years in the making. "Heavy Load," (the song) is my Pièce de résistance if you will. I have had great response to that song and I wrote it as homage to my musical roots in the Ozarks. I wanted something that carried that feeling and I was also going through a difficult time. This record is more of the classical Michael Ann stuff. It is more classical Country / Bluegrass music that you hear on the record."
Countermeasure In Toronto

Recently the a cappella ensemble Countermeasure (no space between the two words in the name) took to the stage at Jazz Bistro located in the heart of Canada's largest city Toronto. The rather large fourteen member ensemble opened with the Harry Warren and Mack Gordon standard, "There Will Never Be Another You," a song that served notice of their excellent vocal harmonies. One gets the impression that at a venue such as the Jazz Bistro which has an odd configuration that the listener does not get the opportunity to fully appreciate Countermeasure's vocals. Jazz Bistro is an long, narrow venue, with low ceilings and the vocals bounce right back from a wall that is perhaps twenty feet at most from the front of the stage. That being said, the venue is nicely appointed, the food is excellent, the service superb and Countermeasure caught our ear and gets a favorable nod.
The first set also featured the Gerry Goffin / Carole King song, "Up On The Roof," first recorded by The Drifters in 1962. Artistic Director and arranger Aaron Jensen provided the legal vocals, adorned nattily in gray, black and teal, like the rest of the ensemble.
In a twist of irony, considering Countermeasure sang numerous popular and iconic songs the one that stood out the most for this writer was an original tune by Aaron Jensen, that being "This Moment Now Is All You Will Ever Own," with the lead vocals performed beautifully by Qwyn Charter.
Other songs that were featured in the first set included Cole Porter's "Experiment,"
Mary McGuire Is A Blood Sister

Michigan singer-songwriter and musician Mary McGuire may be one of the most underappreciated, yet most gifted artists in America today. Now living on Mackinac Island in northern Michigan and raised in suburbs of Detroit, such as Ferndale, Oak Park, Royal Oak and Berkley, Mary McGuire writes songs that reach deep into the soul of both the individual and of society to express what many of us feel, but are seldom eloquent enough to express. McGuire, who has toured /opened for / shared the stage with a stunning and eclectic group of artists including, BB King, Rickie Lee Jones, Patty Griffin, Anni DiFranco, Neville Brothers, Lou Reed, Susan Tedeschi, Dave Matthews Band, Taj Mahal and Pat Benetar, can easily hold her own as a solo artist, but she also is one of the founding members of two incredible Michigan based bands, Blood Sisters and Calamity Jane. Mary McGuire's vocals are very good and her skills as a guitarist are excellent.
McGuire explains how the band Blood Sisters came to be, "Michelle Chenard was in a band called Leaving Dodge and we met at Mackinac Island a number of years ago. She was playing at one bar and I was playing at another one across the street. We became big fans of one another. She is such a powerful vocalist, guitarist and songwriter and we always wanted to work together, but we never really had the right moment. We organized a remake of The Last Waltz and the next year I did Festival Express. That was the year that Barbara, Michelle and I were all together, because I was playing Traffic Tunes, Barbara did Janis Joplin and Michelle did "I'd Love To Change The World," by Ten Years After. We got to know
Kimmie Rhodes Interview

"They call me "Battleship Kimmie," because I never stop. I come from the land of tornadoes, so I kind of am one," platinum selling Texas songwriter and singer Kimmie Rhodes told me during a recent telephone conversation from her second home in the south of France. Kimmie Rhodes is an accomplished playwright, her songs have been recorded by artists such as, Willie Nelson, Trisha Yearwood, Mark Knopfler, Peter Frampton, Wynonna Judd, Joe Ely and CeCe Winans and during parts of 2012 and 2013 she produced and hosted a very good radio interview show on KOKE FM in Austin, Texas.
Recently, Kimmie Rhodes took time out prior to her European tour to talk about her new album Covers, which is just like it sounds a collection of cover tunes, the first record of this type during her career. She also talked about her radio show Radio Dreams that is now being transformed into a private project of her own and she touched upon a new film endeavor in conjunction with the Country Music Hall of Fame in Nashville.
"I wasn't sure how people were going to receive the songwriter recording other people's songs, but Willie (Nelson) was my inspiration and with the songwriter he is and he got away with making Stardust (1999 CD, with songs such as "Georgia On My Mind") then maybe I could get away with recording other people's songs once in my life.
It's something that I wanted to do for a long time and I have been thinking about it. As a songwriter I pretty well always said, I didn't keep a journal, because my songs were my journal and I have a lot of songs going, but after Joe Gracey (her husband) died (November 16, 2011), I had a
Georgia's Erica Sunshine Lee

Erica Sunshine Lee's star is rising quickly, because she has matured as an artist. She still writes the fun songs such as, "All My Bucks Go To Starbucks," and ""How 'Bout Them Dawgs," but she also writes and sings heartfelt and vulnerable songs like "Train Wreck," and "The South Will Rise Again," the title song from her new album. Lee is one of the hardest working artists in America today, relentlessly touring coast to coast and internationally and one gets the sense that she stands on the precipice of suddenly being thrust into the national spotlight, as she breathes new life into America's somewhat cloned Country Music scene. Listeners feel the urge to dance to her songs and to sing along to them, but most of all they have fun with the up-temp ones and they identify with the vulnerability of the duet "You Saved Me." All of the songs on the new recording The South Will Rise Again are original tunes.
The first three songs on the current album, "Girls Night Out," "Georgia For This," and "Everyone Loves A Country, Girl," are very quick moving and get the party started early. The opening track "Girls Night Out," is a party song, about the ladies having fun, dancing, turning heads and closing down the club. "Georgia For This," this writer's personal favorite from the record, good naturedly pokes fun at the California lifestyle, while reminiscing about what the singer-songwriter truly cherishes about her Georgia roots. Eamon McLaughlin's fiddle spices up the guitar driven tune.
About the song "Georgia For This," Erica Sunshine Lee says, "I was hanging out in Nashville with my friend Joe Denim and we were discussing what I experienced while living in California. I told him how people in California tend to watch