Cindy Alexander is an American Girl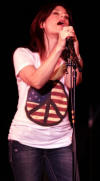 Music fans everywhere are in for a real treat, as Cindy Alexander is about to release her new EP An American Girl, which can stand on its merit as a quality collection of great songs, but it also serves as a prelude to an even bigger undertaking, a double album that is already in the works.
On the phone from her home in Los Angles, singer, songwriter and musician Cindy Alexander explains, "I am doing a series of EPs and I am working with different co-writers / producers, so the next EP I will be doing is with Colin Devlin and I have some more surprises in store. We are going to take these EPs and put them together into a double album with probably some extra tracks, some live tracks and a couple of extra songs. We are going to create a double LP, Four Sides of Cindy Alexander. The next EP will probably come out in March and three to four months after that there will be another one. I would say probably next year by this time."
The eight song An American Girl record demonstrates masterful songwriting, fabulous vocals, top-notch production quality and good musicians. In addition to Alexander playing piano and singing the EP also features, Chip Moreland (drums and background vocals), Carl Sealove (bass), Phil Parlapiano (keyboards and piano), Dave Darling (guitar and background vocals), Randy Ray Mitchell (guitar, dobro), percussionist Tina Trevino, violinist Serena McKinney, Doug Livingston (pedal steel guitar) and Bernie Barlow (background vocals). The record was produced and mixed by Dave Darling and engineered by Zack Darling.
The opening song "Play," written by Cindy Alexander and Dave Darling is one of the best Rock songs Riveting Riffs Magazine has listened.
Maureen Davis & the Mercury 5
When Maureen O'Hara Lana Turner Davis was born, just her name alone suggested this was going to be a fun ride for her and for the rest of us. Actually, the singer, songwriter, actress, music director of a late night talk show and once upon a time comedian's birth certficate reads Maureen Lana Davis, but her mother, a former big band singer and lover of the films of the golden era named her daughter after two of her favorite actresses. The little girl born in Detroit and who as a child moved with her family several times to new homes in Michigan, Ohio and Illinois would go on to share the stage with Bernadette Peters in the Broadway production of the Tony Award winning play Into The Woods, she toured worldwide as a singer and now fronts her Rockabilly band Maureen & the Mercury 5 and she is the first woman to act as the musical director for a late night show that is currently being developed for television by Second City Hollywood, After Dark with Julian Clark.
Maureen Davis' musical influences were sown early in life as she recalls, "my sisters Carolyn and Leslie had huge vinyl collections. They exposed me to all of the music that they loved. I was the baby," says Davis.
She remembers her childhood years, "What is funny is I was very religious. I was very Jewish and I wanted to be a rabbi, so I was in all of the choirs. I got so much of my musical knowledge from the cantor at the temple. I was in the children's choir and the youth choir. I studied Hebrew music, which is the trope and that is the melody of reading Hebrew. It just fascinated me. I learned all of these trills and all of these things based on religious music. I had music in school and I did theater as a child and then something really tragic happened, my rabbi died. He was like my mentor. If there were family problems I would run to him and

Read More
Mary McGuire is Love Struck

We caught up with American singer, songwriter and musician Mary McGuire recently, after she had performed the night before at the largest art competition in the world, Art Prize in Grand Rapids, Michigan, an event that attracts people from all over the world. McGuire took time out from her busy schedule to talk to Riveting Riffs Magazine about her new album Love Struck.
As for how long this album has been in the works, Mary McGuire says, "Oh gosh, a year and one-half. It was complicated to record an album in Detroit when I lived on Mackinac Island. I would find time that I could get off and I would come down state and coral all of the musicians, so I would get a session in at Pearl Sound. I was determined to make Love Struck at Pearl Sound, because Chuck Alkazian is a great producer. He has great ears and he knows how to make everything sound incredible. I trust him completely as a musician, because he is a great drummer and piano player. We were doing a little Blood Sisters (A band collaboration) pre-production test, because we were going to make an album and as it turned out we didn't have the time or the finances to do it, so Barbara (Payton) said why don't you just make your album? I said that's a great idea. That is how that got started. I started to get everybody that I could, to play on the album. I went in and I recorded fourteen acoustic songs, just my guitar and me and songs that we could choose from to make the album. We settled on seven.
A lot of it was just like, okay we're done. What will we do next? It was great. Everybody except me lives in the Detroit area and I lived on Mackinac. I would come down and I would do what I could do. Sometimes I would be in the studio

Read More
Rich Spina and The Fire

Rich Spina (pronounced spee nah) earlier this year (2015) released Silly Melodies & Soliloquies, a solo album comprised of twelve songs, eleven of which were written and arranged entirely by him and the third track "The Fire," was a co-write with Cindy Smart. Those who live in Cleveland, Ohio may recall the teenage Spina bursting onto the local music scene and fronting a couple of bands, the most notable being Love Affair, which enjoyed some success with the song "Mama Sez." When Love Affair disbanded on amiable terms, Spina put together another band, Richard & The Heartbeats, whose song, "Somebody Loves You," was a national pick by Billboard Magazine. Those who are aficionados of the 1960s music scene may recognize Rich Spina as the former keyboardist and music director for Gary Lewis & the Playboys for eighteen years, before he started touring with Peter Noone of Herman's Hermits. Spina's songs have been recorded by artists such as Billy Hufsey, Gary Lewis and Sonny Geraci (The Outsiders – "Time Won't Let Me," and Climax – "Precious and Few"). In addition he has produced Billy J. Kramer, Mark Lindsay and others.
"It took much longer (to complete) that the album should have taken, because I was doing it in between my touring. It took me a year or a year and one-half to get the album done and I was knocking off songs whenever I could. I was purposely putting a collection together that was a little more adult. In other words, I stayed away from my Rock side on that album and I was keeping it more Pop. In fact, that was the only thing I was thinking about when I was putting the record together. My joke was the first nine songs took a year and two months and then the last three songs I did in a couple of weeks, because I was so focused. I just set everything aside and I got it done," says Rich Spina.
Brazil's Rique Pantoja

Rique Pantoja is one of Brazil's most highly respected composers, arrangers, orchestrators, pianists / keyboardists and singers, who has been living in Los Angeles for the past two decades. He was recognized early in his career and he still is, for being a brilliant composer and a music innovator, as his songs have been recorded by artists such as Chet Baker. His band Cama de Gato is legendary and impacted the Brazilian music scene as much as the Fusion band Weather Report did the North American Jazz scene. In essence Cama de Gato influenced future generations of Brazilian artists and songwriters. Rique Pantoja has worked with some of the most iconic people in the music industry including Brazil's Gilberto Gil, Ivan Lins and Djavan, as well as prolific artists like, Carlos Santana, Ricky Martin, Ernie Watts, Lee Ritenour, Luis Conte, Brenda Russell and Alex Acũna. His music has appeared in numerous feature films and television shows, as well as it has been used to promote some of the world's top brands, such as Coca Cola, Honda and Toshiba.
Rique Pantoja grew up in Rio de Janeiro, one of six children, the fourth oldest boy and he also had two younger sisters. He says that his father who passed away almost six years ago was the greatest influence on him musically. He remembers his father as a great pianist and although he did not pursue a music career professionally he did complete all of the conservatory requirements. He played Chopin and Debussy, as well as American Jazz standards and the music of Erroll Garner (American composer and pianist known for "Misty"). Pantoja says that his sister was also a good concert pianist.
"My dad was not really an
Alyse Black

When you listen to Austin, Texas (by way of Seattle, Washington) singer-songwriter and musician Alyse Black cover songs such as "You Belong To Me," (first recorded in 1952), "Seven Shades of Blue," (Beth Nielsen Chapman) and "The Story," (Brandy Carlile) you are struck by a few things, first of all her beautiful vocals, her connection to the lyrics even though she did not write them and her ability to stay in the moment. All three songs were originally going to appear on on her new still to be released self-titled album, which has at its helm as her producer Eric Rosse, however it has now been decided to release those songs on a separate recording. The album will feature some original songs by Ms. Black including "Put Your Feet Up," a song about getting to the end of the day and cuddling with your honey. Another song "Wildest Dream," which will be on the new album we suspect provides a glimpse into the personal life of Alyse Black and the many parts of the world she has experienced, as well as reflecting her love for her her husband and children. "Make Love + Laughter," is about self-discovery.
When complimented on making "You Belong To Me," her own, especially since it dates back to 1952, decades before Ms. Black was born, she says, "Yes, I like to joke that it has been covered by Bob Dylan and the Prime Minister of France's wife. It has been covered by everybody. I am horrible at (trying to make a song sound exactly like someone who did it before). I am horrible at it (she laughs).
This is a really fun story. I wrote in a journal years ago that I wanted to do three songs, three love song covers. When I went to record this album with producer Mark Hallman (the original producer) in Austin we decided to put three covers on it and these were the three songs. We
Read More
Ellen Johnson's Form & Formless

In some ways the album cover for Ellen Johnson's Form & Formless reminds one of a Vincent Van Gogh painting, as the image is comprised of a mix of solid lines and portions of the image, which are less defined. The image prepares the listener for the music they are about to hear.
Ellen Johnson explains, "That's interesting about Van Gough, but I thought of it much like a painting as well. If you get up close to the computer images they are really fascinating. It is hard to tell on the little CD cover. I was thinking of it more as going from something concrete to an atomic structure. The idea is that we see form from our limited point of view but there is a world of atoms all around us, just like in music when we hear a song, but there are vibrations happening that we can't perceive other than through the song form. It is a way to experience what's beyond all of this and the idea of perception.
The photographer Adrian Mendoza took the photo and then he did a computer imaging process that created the effect, then Jeff (her husband) further processed (the image) in photoshop to create the illusion of it going from form to formless."
As for the music that appears on the album, she says, "We had no preconceived idea of what we were going to be doing. We had no charts, no sheet music or anything. We never discussed hey let's do this here or let's create this there. We never discussed anything, so here we were. I was in my little studio booth and John (Stowell) was in his little studio booth and somebody started and out of that a song occurred. What makes
Continental Drifters

Throughout the 1990s and the first part of the 21st century the Continental Drifters formed as a band in Los Angeles and later relocated to New Orleans, as some of their members returned to their hometown. The media brief from Omnivore Recordings that accompanies the double album set Drifted: In The Beginning & Beyond suggests Continental Drifters "The best Americana supergroup that you've probably never really heard of, although you know several of its individual members." Although Omnivore gives top billing to Vicki Peterson (The Bangles), Susan Cowsill (The Cowsills) and Peter Holsapple, it was our guest at Riveting Riffs Magazine, bassist Mark Walton (Dream Syndicate), Carlo Nuccio, Gary Eaton and Ray Ganucheau who founded the group and first began playing gigs together at Raji's in Hollywood.
Mark Walton remembers, "Carlo and I had a little tiny house in Studio City and we had a couch and a bunch of chairs. Carlo liked to cook gumbo and all kinds of stuff. We would sit around and drink cases of beer, eat, be merry and play music. Everybody would just pickup guitars and sing. It was a jamboree and that is how we did it.
Carlo and I were playing in bands around Los Angeles. I kept hearing Carlo sing songs on the couch and I kept saying, you're so good and he said you should play bass with me and I said ya' that would be fun. We were so busy doing so many other things.
Ray had moved to town and he was working for Microsoft in their sales office for